Rajasthan NRHM Results 2016 – 2019, NHM Rajasthan GNM 2016 Result, Cut Off Marks, SIHFW GNM ANM Pharmacist Merit List Download Link available at www.sihfwrajasthan.com & www.rajswasthya.nic.in:
State Institute of Health & Family Welfare, Jaipur has finally released the most awaited Rajasthan NRHM Results 2016 – 2019 of online exam held on 27th and 28th February 2016. It is fabulous news that announced by the institution to candidates who had attempted SIHFW online CBT test of various posts on above specified dates for cracking 7851 vacancies. As we all knows that currently contestants are waiting very curious for the declaration dates of Rajswasthya GNM ANM Results 2016 to forecast their final status about selection. Such applicants who are searching merit list and mark sheet on internet hereby we inform them that their long wait shall be over in short time. Appropriate contestants can also verify Rajasthan NRHM exam cut off marks category wise from direct link which we have facilitated at the end of our article. The readers need to login official web page in order to collect brief particulars about Raj NHM GNM/ Nurse Grade-2 Merit List; we will also activate our links further whenever officials update it.
Latest Update!! एनएचएम (SIHFW) संविदा भर्ती 2016 Result of जीएनएम/ नर्स ग्रेड द्धितीय (GNM/ Nurse Grade II) has released on 06th Feb 2019. Document Verification will be held from 05th March to 15th March 2019. Download the Document Verification Plan for Male and Female Candidates from the below link.

Click here to check Rajasthan NHM (SIHFW) GNM Document Verification Plan for Male Candidates 2019
Click here to check Rajasthan NHM (SIHFW) GNM Document Verification Plan for Female Candidates 2019
Click here to check NHM Rajasthan SIHFW GNM Document Verification 2019 Related All Details
Click here to check Result of Rajasthan NHM Online Examination for the post of Contractual GNM/ Nurse Grade-II 2016
Rajasthan NRHM Results 2016 – 2019 Date | SIHFW Rajasthan GNM Result, Cutoff Marks, Merit List @www.rajswasthya.nic.in
Every year, it also comes up latest employment news for the job seekers and also organizes selection examinations through online or offline modes. A couple of months back, the board had circulated SIHFW Rajasthan Recruitment 2016 notification on 30th January for appointing 7851 best candidates in various Paramedical posts. The recruitment notice F-100(2)/SIHFW/Recruit-NHM/2015-16/2530 is updated for varied number of medical posts such as General Nursing Midwifery, Auxiliary Nurse Midwifery, Ayush Doctor RBSK, Ayush Compounder, Pharmacist, Lab Technician and Ayurveda Medical Officer Jobs. This job advertisement had grabbed a huge support from the interested individuals whose aged are mini 18 years and maxi 35 years. Online application was submitted by enormous candidates for their desired posts before the due date on 12th February, 2015. Higher authorities have also provided admit cards to the eligible contestants 05 days prior examination date through their authorized website.
rajswasthya.nic.in GNM Result/ Cut off/ Merit List 2019
Lastly, all participants are not cleared with examination dates as institute had mentioned that exam will be hosted from 21st to 28th February 2016. But later, board had cleared all the doubts and announced the final dates, i.e. 27th & 28th February 2016. As per scheduled timetable, SIHFW has successfully conducted a computer based test for all vacancies on Saturday and Sunday at more than 45 online examination centers throughout the state. The CBT exam was organized in four different batches in a single day from 08:30 AM to 05:30 PM. Every batch was held for one and half hours (90 minutes). Total 100 questions were asked in the test which included 60 questions from Professional knowledge and 40 questions from General Knowledge & Aptitude. Approx 40 thousand candidates who were searching latest govt jobs after 12th pass had applied for the recruitment in different posts. Out of which 80-90% candidates had appeared in this online examination with the best preparation for cracking medical jobs. Now all contestants are eagerly looking for Rajasthan Ayurveda Medical Officer Results to grab an idea of their selection.
♦ Result Overview ♦
a) Department Name: State Institute of Health & Family Welfare (SIHFW), Jaipur
b) Kind of Category: Result
c) Job Type: 

Government Jobs


d) Location of Job: In Raj State
e) Total No. Vacancies: 7851 seats
f) Name of the Posts for which CBT exam was held:-
» GNM – 3167 posts
» ANM – 1789 posts
» Ayush Doctor RBSK – 1024 posts
» Ayurveda Medical Officer – 668 posts
» Pharmacist RBSK – 512 posts
» Ayush Compounder – 150 posts
» Homeo Medical Officer – 121 posts
» Unani Medical Officer – 109 posts
» Pharmacist Zilla Chikisya and CHC – 79 posts
» PHN – 77 posts
» Lab Technician – 48 posts
» Nursing Tutor – 40 posts
» Senior Sanitary Inspector – 31 posts
» Nursing Tutor, College of Nursing, Kota – 09 posts
» Audiologist – 07 posts
» Optometrist – 07 posts
» Physiotherapist – 07 posts
» Nursing Superintendent – 04 posts
» Nursing Midwifery Tutor, State Nodal Center, Kota – 02 posts
g) Exam Name: Computer Based Test (On-line)
h) Exam Dates: 27/02/2016, 28/02/2016 & 09/03/2016
i) Answer Key Status: Notified Soon
j) Rajswasthya Result Status: RELEASED
k) Official Website 01:  www.rajswasthya.nic.in
l) Official Website 02:  www.sihfwrajasthan.com

How to check online SIHFW Rajasthan GNM Result 2016 – 2019?
Contender can download and check out NRHM Rajasthan GNM ANM RBSK Online Exam Results 2016 by following our instructed steps.
Step 01: Logon to official web portal of the department.
Step 02: In the home page, go to "Recent Update" section.
Step 03: Now, click on the download link named as "Rajswasthya Results of GNM ANM Pharmacist Online Recruitment Examination 2016"
Step 04: In the next page, submit your Application ID No., Name, DOB (DD/MM/YYYY), Password, etc. whichever required.
Step 05: Finally, a pdf file of merit list will be open on your PC/ mobile.
Step 06: Check out your name/ roll number in the merit list, if it is there, then you are selected otherwise you not.
Step 07: Download your result and take a print out of it for next selection phase.
Important Links
Click here to check Rajasthan SIHFW GNM 2016 Result Release Date Official Notice
Click here to visit http://www.rajswasthya.nic.in
Click here to visit http://sihfwrajasthan.com
Check out list of shortlisted contestants for AYUSH MO & Chikitsak-RBSK
According to reliable sources, the Rajasthan Swasthya Department will reveal NRHM Results of GNM, ANM, Pharmacist, Ayush Doctor, Compounder, Ayurveda Medical Officer and many other posts within this March month. Due massive vacancies, enormous candidates had participants, so experts will need some time for proper evaluation process of answer paper. As per our expectation, experts will take round about 30 days to prepare final Rajasthan NRHM Merit List 2016 category and post wise. SIHFW department will issue Rajswasthya exam results only through their official website and not through SMS or email. All candidates will need to use their admit card details such as Application No., Roll/ Seat No., Date of Birth or Password for generating scorecard/ mark sheet from the authorized web page.
Further Selection Process: Those contestants who score the highest marks in this online examination will be short listed for merit list. After that, selected contestants will be called for a personal interview session as per merit list. At last, candidates will be recruited to the posts for which they are eligible and placed in the different branches of National Rural Health Mission.
Previous Update on Rajasthan NRHM Results 2016: Those contestants who attended examination on 27/02, 28/02 & 09/03/16 can collect information about Document verification date, time and address from the official website. Candidates can download their admit card for document verification from a quick link provided below. For more details, check out below image.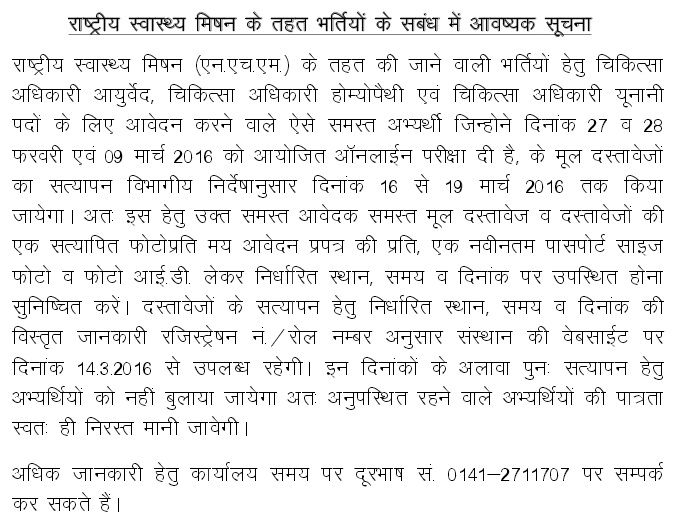 Rajasthan State Institute of Health & Family Welfare was established by the State Government on April 19, 1995. On formation, it was registered as a society under Societies Registration Act 1958. It is an apex level independent training and research organization in the Health Sector of the State. At present, Dr. Moti Lal Jain is a key person and the Director of this institute. The National Rural Health Mission was launched by Manmohan Singh, Former Prime Minister of Indian on April 12th, 2005. It is one of the subsidiaries of NRM. It was working specially to provide effective healthcare to rural population throughout the country. GOI has given main focus to 18 states which are having weak public health indicators and/or weak infrastructure. The Empowered Action Group (EAG) States as well as North Eastern States, Jammu & Kashmir and Himachal Pradesh have been given special focus under this mission. The major initiatives of this mission are health plan for each village through Village Health Committee of the Panchayat.
Our techufo.in team wishes all the examinees a GOOD LUCK for their best outcome of SIHFW National Rural Health Mission Recruitment Merit List. Readers can also bookmark this page in order to get speedy updates about Rajswasthya online exam results release dates, interview schedule, location and much more. Candidates are guided to submit their queries or questions related to this article whenever as per their convenience by dropping it in the comment box. We will try our level best to reply every single candidate as quickly as possible, THANK YOU.