West Bengal Postal Circle Recruitment 2023 GDS Notification Out for 45 WB Post Office Gramin Dak Sevak Vacancies Apply Online India Post Application Form at indiapostgdsonline.gov.in:
Hey friends, check out Post Office Employment News Update! Apply Online Now for latest 10th pass Postal Jobs Openings in WB State. Here in this article, we are sharing information on the latest India Post Recruitment in West Bengal Circle. The Department of Posts (DoP) has published West Bengal Gramin Dak Sevak Notification to fill up massive 45 vacancies in various divisions. Aspirants looking for latest GDS Posts in Bhartiya Dak can start West Bengal Postal Circle Recruitment 2023 Apply Online process by visiting the official website. It is a Govt job opportunity for jobless people having their age below 40 yrs. To apply for GDS vacancies, WB Postal Circle Online Application Link is available here at the bottom of this page.
If you have desired to utilize this chance, then note the last date for WB Post Office Gramin Dak Sevak Vacancy 2023 Apply process is 11-06-2023. Do you want to refer more about West Bengal Post Office GDS Recruitment Eligibility Criteria?? OK, then scroll down and get complete information by reading the following passages.
West Bengal Postal Circle Recruitment 2023 | WB Post Office GDS Vacancies Apply Online @indiapostgdsonline.gov.in
The West Bengal Postal Circle Notification link published by the Post Office Recruitment Department for 45 GDS Vacancies. As we all know, many aspirants are dreaming about this WB Gramin Dak Sevak Recruitment process to start online. Those who are interested in latest WB Government Jobs opening must go for this most recent Bhartiya Dak Bharti. At the official website, the WB Post Office GDS Jobs Online Application submission process will start from May 22, 2023 and ends on June 11, 2023. The Applications have to be filled through online modes by logging to the designated website given below.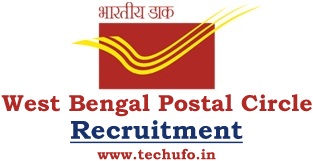 Just to start the registration, click on DOP West Bengal GDS Apply Online URL uploaded below and register your applications as early as possible much before the closing date. As per the notification, the qualification of a 10th pass will be required along with 18-40 years age limit to find a place for GDS job. General, OBC & EWS aspirants must pay Application Fee of Rs. 100/- through online/ offline mode. Remember, only the best ones will get GDS Jobs in West Bengal Postal Department.
WB Postal Circle GDS Recruitment 2023: Overview
| | |
| --- | --- |
| Name of the Organization: | INDIA POST |
| Name of the Circle: | WEST BENGAL POSTAL CIRCLE |
| Total Vacancies: | 45 vacancies |
| Job Roles: | Gramin Dak Sevak (GDS) Special Cycle May 2023 |
| Kind of Employment: | Postal Jobs |
| Job Category: | Central Government Jobs |
| Job Location: | West Bengal State |
| Application Submission Dates: | 22 May to 11 June 2023 |
| Registration Process: | Online Mode |
| WB Post Official Website: | www.westbengalpost.gov.in |
| India Post Official Website: | www.indiapost.gov.in |
| GDS Online Portal: | indiapostgdsonline.gov.in |
WB Postal Circle Vacancy 2023: Details
Following is the breakup of WB Post GDS Category wise & Language wise Vacancies 2023 for BOs in Unbanked Villages, so go through it:-
| | | | | | |
| --- | --- | --- | --- | --- | --- |
| Name of the Communities | Bengali | Hindi/ English | Nepali | Nepali/ Bengali | Nepali/ English |
| OBC (Other Backward Class) | 07 | 00 | 02 | 00 | 00 |
| EWS (Economically Weaker Section) | 01 | 00 | 01 | 00 | 00 |
| UR/ GEN (Unreserved/ General) | 15 | 00 | 07 | 00 | 00 |
| SC (Scheduled Caste) | 06 | 00 | 02 | 00 | 00 |
| ST (Scheduled Tribe) | 02 | 00 | 02 | 00 | 00 |
| PWD (Persons with Disabilities) – A | 00 | 00 | 00 | 00 | 00 |
| PWD (Persons with Disabilities) – B | 00 | 00 | 00 | 00 | 00 |
| PWD (Persons with Disabilities) – C | 00 | 00 | 00 | 00 | 00 |
| PWD (Persons with Disabilities) – DE | 00 | 00 | 00 | 00 | 00 |
| TOTAL No. of Vacancies ⇒ | 31 | 00 | 14 | 00 | 00 |
West Bengal Postal Circle GDS Notification 2023
Here we want to say WB Post Office GDS Recruitment is a great opportunity that should not be missed by all those candidates searching Govt Jobs after 10th pass. Willing contestants must read out the notification to confirm whether they possessed with required eligibility criteria or not. Also, they insisted on referring to the instructions and other norms once before applying the application form. All those who are looking forward to DOP GDS vacancy will find an apply link from the homepage of a website only. India Post West Bengal 45 GDS Vacancies details like Pay scale, Security Amount, Application Fee, Payment Process, Selection Method, etc. described briefly here. You may check it out from the below paragraphs.
Eligibility Criteria for West Bengal Gramin Dak Sevak Vacancies 2023
NATIONALITY: Indian Nationals
AGE LIMITATION (Cutoff Date: 11th June 2023):-
As per DOP Gramin Dak Sevak Vacancies Age Criteria, the age of unreserved category contenders should be minimum 18 years while maximum age limit should be 40 years.
Age relaxation will be applicable as Govt Norms. The upper age limitation for reserved categories like OBC, SC, ST and PWD as follows:-

Economically Weaker Section (EWS) – 40 years
Other Backwards Castes (OBCs) – 43 years
Scheduled Castes (SCs) – 45 years
Scheduled Tribes (STs) – 45 years
Persons with Disabilities (PwD) – 50 years
WB POSTAL GDS JOB QUALIFICATIONS: Those who are willing to apply for DOP WB Post Office Recruitment should have following qualifications from a recognized Board:-
Passed 10th Standard Exam with passing marks in Mathematics and English (having been studied as compulsory or elective subjects) from the State Govt. or Central Govt. recognized Boards.
Knowledge of working on a Computer.
Knowledge of Cycling and Adequate means of livelihood
Knowledge of Local Language of the concerned state or UT. Aspirants should have studied local language at least up to 10th Standard.
Candidates can find further more details about qualifications by referring the official notification PDF file attached with this page.
West Bengal Post GDS Recruitment: Application Fee & Mode of Payment
ABOUT APPLICATION FEE: For Online West Bengal Gramin Dak Sevak Recruitment, all Male candidates from OC, EWS & OBC category need to pay their exam fee while Female and SC/ ST/ PH Applicants exempted from the fee payment process. Check out category wise free of application form registration mentioned below:
| | |
| --- | --- |
| Category Names | Application Fee |
| Open Category Male Aspirants: | Rs. 100/- (rupees one hundred only) |
| OBC Male Contestants: | Rs. 100/- (rupees one hundred only) |
| EWS Male Candidates: | Rs. 100/- (rupees one hundred only) |
| SC/ ST/ PH Male Candidates: | Rs. 000/- (no fee) |
| Female Candidates (Any Category): | Rs. 000/- (no fee) |
How to Make Fee Payment?? As no application fee required for ST, SC, PH and Women aspirants so they can submit their details after paying application fee directly through West Bengal GDS Recruitment Apply Online link uploaded to the official website & also available below. Those UR/ EWS/ OBC Male category contestants applying for the vacancy should pay fees by Online mode, i.e. Credit/ Debit Cards and Net Banking facility/ UPI link provided on the website. While making the fee payment, candidates should inform their Registration Number. Take a look at registration process & selection procedure as listed below in detail.
Pay Scale for WB Post GDS Posts
PAY SCALE/ SALARY: An attractive salary per month is to be paid by the Postal Department to applicants selected as per the automatically generated merit list. The Minimum TRCA (Time Related Continuity Allowance) shall be payable as mentioned in the following table:-
| | |
| --- | --- |
| Category Names | TRCA Slab |
| Branch Postmaster (BPM) | Rs. 12,000/- to Rs. 29,380/- |
| Assistant Branch Post Master (ABPM) and Dak Sevak | Rs. 10,000/- to Rs. 24,470/- |
How to Apply Online for WB Post Office GDS Recruitment 2023?
Job-seekers, do you all know how to apply online West Bengal Postal GDS Application Form?? If you don't know the process, then do not get worried. To help you guys, we have mentioned some simple and very easy steps at the bottom. By the following, the guidelines provided below, you will not find any problem in applying the form. The detailed information for online registration available in the WB Post Office Gramin Dak Sevak Notification PDF that you may download from a link posted below. The DoP authority has written all the necessary points in the advertisement which relates to West Bengal Postal Circle recruitment 2023.
To get registered, candidates have to visit the official website, i.e. indiapostgdsonline.gov.in. You guys are allowed to register only one time in the designated portal. The documents like SSC Marks Certificate, Community Certificate, Certificate of Disability, Passport Size Photograph and Signature required for registration procedure. Contestants can follow the instructions given below to submit the online application form successfully.
Steps to Apply West Bengal GDS Online Application Form 2023
1st Step – First of all, open the India Post GDS Official Website or open a link available below.
2nd Step – Go to the News Section and click on the link to Apply Online for GDS Posts.
3rd Step – On the next page, you will see a link titled "Download India Post Notification for West Bengal Gramin Dak Sevak (1963 GDS Posts) Recruitment 2023".
4th Step – Download the notification and then refer to the eligibility criteria as well as other conditions before starting filling up the application form.
5th Step – To proceed with the submission process, press the Registration button.
6th Step – Now, fill up your information like Name, Father Name, Age, Gender, Community, Qualification, Mobile Number, Address,
7th Step – Click on the Submit button after details filled up by us.
8th Step – On successful submission, Registration No. will display on your screen.
9th Step – Use the Reg. Number to deposit the fees and upload necessary certificates.
10th Step – The scanned copies of Photo (File Size: Max 50 KB & Min 20 KB) and Signature (File Size: Up to 20 KB) should upload in JPG/ JPEG format.
11th Step – Finally, press the Print Application Button and get registered your details.
12th Step – If required, then make one or two print for just a reference purpose.
Official Links for WB GDS 2023 Recruitment
NOTE: The SSC Exam Marks Memo or Certificate is mandatory for all candidates to upload while registering their application form. Willful duplicate registration entitles the disqualification of candidates. Also, those candidates who willfully upload wrong documents or information & unnecessary documents will not be considered for the selection and candidature will be cancelled by the DoP authority. Candidates can apply to any of Circles or any number of optional posts with their Registration Number issued by the department. Aspirants candidature will be treated as cancelled if they do not indicate the name of Division/ Unit applied for in the online application. All the candidates have to register their application at the online portal only one time.
West Bengal Post GDS Jobs Selection Process 2023
As far as West Bengal Post Office Jobs Selection Criteria concert, the DOP authority will select applicants for GDS Vacancies based on their academic merit i.e. marks obtained in 10th standard exam. According to the rules, selection of every applied candidate's will be through Auto Generated Merit List made by the higher authority officials. While preparing the Final Merit List, no weight-age for marks secured by candidates in higher educational qualification will be allotted. In this recruitment process, there will be no written test and interview. If you want further more details about the selection process for DOP Kolkata GDS Jobs, then it is better to refer the official advertisement pdf file uploaded above under 'Quick Link' heading.
About India Post GDS Jobs Security Amount: Rs. 1,00,000/- for BPM (Branch Postmaster) Jobs and other approved categories of GDS, i.e. ABPM (Assistant Branch Post Master) & Dak Sevak should be furnished by the candidates. It is mandatory on recruitment as GDS, those aspirants recruited shall be required to furnish security.
West Bengal Post Office Gramin Dak Sevak Recruitment 2023: Important Dates
India Post WB Circle Apply Online Dates: As registration is going to over on 11th June 2023, so all those who willing and yet not applied can come forward for online submission of their application form. Desired contestants have to register themselves in the web portal with the based details. Only after registering the necessary details, contestants can obtain the Unique Registration Number (URN) from the website. As per the notification, India Post Department has announced the last date for acceptance of GDS Applications for West Bengal Postal Circle. Contestants can apply online until the due date. Check out the Opening and Closing Date for online submission of applications and other Important dates from below description.
| | |
| --- | --- |
| Events | Key Dates & Time |
| Release Date of Official Notification: | 20th May 2023 |
| Date for Starting Online Registration Process: | 22nd May 2023 (00:01 hrs onwards) |
| Closing Date for Online Registration Process: | 11th June 2023 (up to 23:59 hrs) |
| Due Date for Online Payment of Fee: | 11th June 2023 (up to 23:59 hrs) |
| Last Date to Apply Online Application Form: | 11th June 2023 (up to 23:59 hrs) |
| Dates for Correction in Online Application Form: | 12th June (00:01 hrs onwards) to 14th June 2023 (up to 23:59 hrs) |
| Result cum Selection List Release Date: | To be notified later |
| Date for Issuing Letter of Intimation: | 25 to 30 days after the release of result |
| Schedule for Document Verification: | To be notified via SMS or Email |
About West Bengal Postal Circle
WB Postal Circle is a part of India Post; Government operated postal system in India. It works under the Ministry of Telecommunications. The Department of Posts divided into 22 postal circles and it is one of that circles. The Post Office Department (Bhartiya Dak Vibhag) is the largest Central Government Department. It is a central post office of the Kolkata city and a chief post office of West Bengal state. It's headquarters located in Kolkata city. They provide best services through parcel, bill mail, e-payment, money remittance, insurance, banking, VPP (value payable post), etc. The Department is famous for their National Mail and International Mail related speed & reliability services.
Every year, this organization offers career opportunities for the eligible and suitable people. For latest Postal Jobs like GDS, Postman, Mail Guard, PA, SA, MTS, etc., the Department of Posts hires best people in various regions and provides employment. In recent days, Indian Postal Department is releasing recruitment notification to fill up Gramin Dak Sevak (GDS), Postman, Mail Guard & Multi Tasking Staff (MTS) Posts in various States.
India Post West Bengal Circle Recruitment: Help Desk
Contact Address:
GOI, Department of Posts
O/o the Chief Postmaster General (CPMG),
West Bengal (WB) Circle,
Yogayog Bhawan,
Kolkata – 700012
Help Desk Number:
033-22120578
Email IDs for Query:
wbgdscyl3@gmail.com
gdsoltechissues@gmail.com
Finally, DOP has released the most awaited WB Postal Circle GDS Recruitment 2023 after a long delay and details furnished in this article. In this web page, we have tried our best to explain complete info about West Bengal Postal Circle Recruitment 2023 of 45 Gramin Dak Sevaks in various divisions. Those who want WB Postal Vacancy 2023 latest update time to time can bookmark our website – www.techufo.in by pressing a Ctrl+D key. We have mentioned Email ID in this article, all those who have any query can utilize it. The next update on Cut off Marks & Result will be available soon here.
Share your query in a below comment segment to discuss it with all other candidates. Guys if you are willing to get further updates about this Post Office Online Recruitment on your device, then subscribe our website by pressing Red Bell Icon. All the best and stay tuned for upcoming news…!!