Gujarat Forest Guard Syllabus & Exam Pattern 2023, OJAS Vanrakshak Test Pattern, Gujarat Forest Guard Previous Papers Download, forests.gujarat.gov.in Beat Guard Bharti 2022-23 Exam Syllabus PDF Available Here:
Gujarat Forest Department has provided Exam Pattern and Syllabus for Forest Guard 2022-23 Bharti so applicants can prepare accordingly. Aspirants who applied for OJAS Van Rakshak Jobs must be aware of Gujarat Forest Guard Syllabus & Exam Pattern 2023 to perform well in an examination. So, we have briefly explained Gujarat Forest Beat Guard Exam Pattern & included a detailed Syllabus below in this article. Also, a Direct Link to download Gujarat Forest Guard (Vanrakshak) Syllabus 2023 PDF is available at the end of this page. Scroll down to check all about the OJAS Guj Vanrakshak Topic-wise Syllabus, Written Exam Pattern, Physical Test Structure and other information.
Gujarat Forest Guard Syllabus & Exam Pattern 2023 | OJAS Vanrakshak Previous Papers
Gujarat Van Vibhag Bharti Board will conduct a Written Examination, Physical Efficiency Test, Walking Test, Document Verification and Medical Test for 823 Vanrakshak Posts. OJAS Gujarat Forest Guard Written Examination can be challenging, and contestants need to have a good understanding of the syllabus in order to succeed. Aspirants aiming to crack the OJAS Gujarat Forest Guard Bharti Exam 2023 with satisfying marks must have an effective study plan. With the help of Previous Question Answer Papers, Exam Pattern & Syllabus of Gujarat Forest Beat Guard Recruitment, candidates can get an idea of the topics to be focused on while making preparation strategies.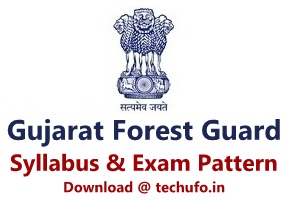 However, candidates are advised to solve Gujarat Forest Guard Previous Question Papers to improve their ability to take tests and their confidence level. Before kicking off their study plan, candidates must note down Gujarat Forest Guard Exam Pattern & Syllabus from this article to ensure they have covered all the material and are ready for the examination.
Download OJAS Gujarat Forest Beat Guard (Vanrakshak) Exam 2023 Call Letter
Check Gujarat Forest Guard (Van Rakshak) Exam 2023 Merit List/ Result
OJAS Gujarat Forest Bharti Exam 2023: Overview
Department Name:
Gujarat Forest Department
Rectt. Advt No.:
FOREST/2022-23/1
Post Name:
Forest Guard (Vanrakshak -વનરક્ષક)
Total Vacancies:
823 vacancies
Selection Process:
1) Written Examination
2) Physical Efficiency Test (PET)
3) Walking Test
Mode of Exam:
Offline mode
Application Dates:
01st to 15th November 2022
Sammati Patra Dates:
24th July to 07th August 2023
Written Exam Date:
August/ September 2023 (expected)
Physical (PET) Exam Date:
Notified Later
Syllabus & Test Pattern:

Available Below
Official Website:
www.forests.gujarat.gov.in
Gujarat Forest Guard Written Exam Pattern 2023
Aspirants will need to understand the Gujarat Forest Written Exam Pattern for Beat Guard Bharti 2023 beforehand, which contains subject names, weightage of marks, total questions, marking scheme, test duration, etc. Hence, check below the OJAS GUJ Vanrakshak Written Test Question Paper Pattern/ Structure:-
The Written Examination will be conducted in OMR (Optical Mark Reading) based method, i.e. Offline mode.
There will be MCQ (Multiple Choice Question) type 100 questions in the Written Exam.
The Question Paper will be for 200 marks in total, while each question shall carry 02 marks.
The questions will be asked from the subjects such as General Knowledge (GK), Mathematics, General Gujarati, Technical Topics, etc.
The total duration of the written exam is 02 hours only.
There will be a Negative Marking of 0.25 marks for each incorrect answer.
The Question Paper will be set in Gujarati Language only.
The Minimum Qualifying Marks are 40% (i.e. 80 out of 200 marks) in Written Test.
S. N.
Topics
Weightage (%)
No. of Questions
Maximum Marks
Duration
1.
General Knowledge
25%
100 ques.
200 marks
120 minutes
2.
General Mathematics
12.50%
3.
Gujarati Language
12.50%
4.
Technical Topics
50%
Gujarat Forest Guard 2023 Detailed Syllabus
Gujarat Vanrakshak Written Exam Syllabus includes 04 (four) topics, viz. General Knowledge, General Maths, Gujarati Language and Technical Knowledge. Following is the Subject wise Detailed Syllabus for OJAS Forest Guard Written Test that candidates must refer to:-
General Knowledge (સામાન્ય જ્ઞાન) Syllabus:-

Indian History
History of Gujarat
Indian Politics
Indian Economy
Sanskrutik Varso
Sports & Games
Important Days & Dates
Geography of India
Awards & Honors
Books & Author
New Inventions
World Organizations
Famous Places in India
National Dance
Indian Culture
Tourism spots of Historical Importance
Current National News
International issues
Music & Literature
Countries & Capitals
Handicrafts
Political Science
Scientific Innovations, etc.

General Mathematics (સામાન્ય ગણિત) Syllabus:-

Number Systems ( Averages, Percentage, Mixtures & Allegations, Time & Ratio, Area, Profit & Loss, Simple & Compound Interest, Time & Speed, Investment, HCF & LCM, Problem On Ages, Simplification, etc.)
Logarithms
Statistics & Probability
Bar Graph, Pictorial Graph, Pie Chart and Data Interpretation
Algebra
Introduction to Three-Dimensional Geometry
Trigonometry
Mensuration
Matrices
Cartesian System of Rectangular Coordinates
Complex Numbers
Quadratic Equations
Sequences & Series
Probability Function
Definite Integrals
Straight Lines
Permutations & Combinations
Sets & Set Theory
Conic Sections
Binomials & Polynomials
Place Value & Symbols

Gujarati Language (ગુજરાતી ભાષા) Syllabus:-

Grammar
Common Vocabulary
Synonyms & Antonyms
Spot the Error
Knowledge of the usage of Idioms & Phrases
Sentence Formation
Comprehension of Passage
Shuffling of Sentence Parts
Improvement of Sentences

Technical Topics (ટેકનિકલ વિષયો) Syllabus:-

Environment & Ecology
Knowledge related to Vanaspati (Botany)
Wildlife
Knowledge regarding Water Soils & Land of Forest
Aushadhi Vanaspati (Medicinal Plants) Knowledge
Knowledge of Wood and Wood Based Industriess
Knowledge of Geological Factors
Gujarat Forest Guard Physical Test Structure 2023
The Physical Efficiency Test (PET) for Gujarat Forest Guard 2023 shall measure the male & female candidates' fitness standards set by the authority. Refer to the below table for Gujarat Vanrakshak Physical Exam Standards:-
♦ Male Candidates ♦
S. N.
PET Events
Others
Ex-Servicemen
1.
1600 Meter Race
06.00 minutes
06.30 minutes
2.
High Jump
04 foot & 03 inch
04 foot
3.
Long Jump
15 foot
14 foot
4.
Pull Ups
Minimum 08 times
Minimum 08 times
5.
Rasha Chadh
18 foot
18 foot
♦ Female Candidates ♦
S. N.
PET Events
Others
Ex-Servicemen
1.
800 Meter Race
04.00 minutes
04.20 minutes
2.
High Jump
03 foot
02 foot & 09 inch
3.
Long Jump
09 foot
08 foot
Gujarat Forest Guard Walking Test 2023
Candidates who qualify the Written Exam and Physical Test will be eligible for Walking Test in Gujarat Vanrakshak Bharti. It will test the walking capacity of candidates. The time & distance for the walking test are as follows:-
| | | |
| --- | --- | --- |
| Categories | Distance | Time Duration |
| Male Candidates | 25 kilometer | 04 hours |
| Female Candidates | 14 kilometer | 04 hours |
forests.gujarat.gov.in Vanrakshak 2023 Syllabus PDF Link
Below, candidates can obtain a PDF file containing Gujarat Forest Guard Syllabus & Exam Pattern 2023 with a single click on the download link. Also, candidates visit the official website – https://forests.gujarat.gov.in/ URL link attached below for more details:-
| | |
| --- | --- |
| Gujarat Forest Beat Guard 2023 Exam Pattern & Syllabus: | DOWNLOAD PDF |
| Official Website of Gujarat Van Vibhag: | VISIT HERE |
FAQs About Gujarat Forest Exam Pattern & Syllabus 2023
Below given is the list of frequently asked questions regarding Exam Pattern & Syllabus for OJAS Guj Van Rakshak Bharti 2023 so take a glance:-
What is the Written Exam Pattern of Gujarat Forest Guard 2023?
As per the exam pattern, the written test of 200 marks containing 100 questions will consist of OMR-based Objective type Multiple-choice Questions to be answered using a Blue/ Black ball pen.
What is the Syllabus for Gujarat Forest Guard Exam 2023?
OJAS Vanrakshak Syllabus consists of questions from General Knowledge, Mathematics, General Gujarati and Technical Topics (Natural Factors like Environment, Ecology, Biodiversity, Medicinal Plants, Knowledge of Botany, Wildlife, Water Soils, Wood & Wood Based Industries, Forest, Land, Geographical Factors, etc.).
Where can I check the Gujarat Vanrakshak Exam Pattern & Syllabus 2023?
We have provided the OJAS Forest Guard Detailed Syllabus Subject wise and its Exam Pattern in this article for the sake of candidates.
What should I do to prepare for the Gujarat Forest Guard 2023?
First, you should review the entire OJAS GUJ Vanrakshak Syllabus & Exam Pattern. Secondly, you should create a study plan based on your strong and weak areas. Complete each topic within the timeframe specified in your strategy. Lastly, start the Mock Tests and analyze them & your progress. This process will surely help your crack the examination.
Does the Gujarat Forest Guard Exam 2023 have Negative Markings for wrong answers?
Yes, a negative mark of 0.25 will be deducted for every wrong answer in the written examination.
ગુજરાત વન રક્ષક પરીક્ષાની તૈયારી માટે તમામ ઉમેદવારોને શુભકામનાઓ. ગુજરાત ફોરેસ્ટ ગાર્ડ સિલેબસ પર લેટેસ્ટ અપડેટ્સ માટે www.techufo.in પર જોડાયેલા રહો…!!