MP Vyapam ANM Answer Key 2021, MPPEB ANMTST 2020 Answer Key, MP PEB ANM Training Selection Test Key, www.peb.mp.gov.in Madhya Pradesh ANMTST Paper Solution Sets, Online Objections Link Available Here:
MP ANMTST 2020 2021 Answer Key Download Shift wise: Madhya Pradesh Professional Examination Board has RELEASED Answer Key for ANM Training Selection Test held on 15-02-2021 and 16-02-2021. Candidates can view MPPEB ANMTST Answer Sheet and Submit Objections (if any) only by logging through their Roll Number, DOB, Exam Date & Shift. Here we have attached a direct link to check MP Vyapam ANM Answer Key 2021 at the bottom of this web page. Applicants may go throughout this article to know the more details about PEB Madhya Pradesh ANM Exam Paper Solutions & Cut off Marks by scrolling down.
MP Vyapam ANM Answer Key 2021 Download PDF | MPPEB ANMTST Exam Answer Sheet Sets @www.peb.mp.gov.in
Professional Examination Board has successfully conducted Madhya Pradesh ANM Training Selection Test – 2020 on 15th Feb and 16th Feb 2021 as per timetable allotted to every candidate. The board has hosted online examination for MP Auxiliary Nurse Midwifery Posts in two shifts, i.e. Morning (01st shift) and Afternoon (01st shift) on both days at designated venues across the state. Approximately one lakh candidates who were finding latest nursing jobs after 12th pass had attempted this entrance test. Now to estimate the marks, candidates are looking forward to PEB MP Auxiliary Nurse Midwifery Training Selection Test Paper Solution Set A, Set B, Set C & Set D. Candidates can also analyse cut off marks by referring Madhya Pradesh Vyapam ANM Exam Key released by the authority.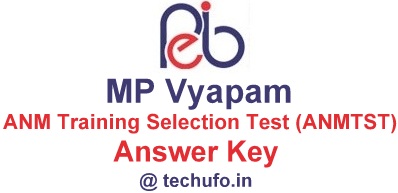 Candidates who have attended ANMTST Online Exam now check out their answers with the official model answer key uploaded at the MPPEB website – http://peb.mp.gov.in. Aspirants can verify whether they have qualified in an online examination or not by crossing the solution key. All participants can download MP Vyapam Answer Key for ANM Exam 2021 from our website by clicking on a direct link uploaded below.
MP ANMTST Answer Key 2021 – Overview
Exam Organizer:
Madhya Pradesh Professional Examination Board
Exam Name:
ANM Training Selection Test (ANMTST) – 2020
No. of Vacancies:
220 vacancies
Job Category:
State Government Jobs
Job Location:
M.P., India
Exam Mode:
Online Examination (Computer Based Test)
Examination Dates:
February 15 & 16, 2021
Examination Timings:
» First Session = 09:00 AM to 11:00 AM
» Second Session = 02:00 PM to 04:00 PM
Model Answer Key Release Date:
February 22, 2021
Answer Key Download Link:
Available Below
Final Answer Key Release Date:
Update Soon
MP Vyapam ANMTST Result Date:
April 07, 2021
Official Website:
www.peb.mp.gov.in
Steps to Download Madhya Pradesh PEB ANM Answer Sheet 2021
For the sake of candidates, here we have listed steps to generate Answer Sheet of MPPEB ANMTST 2021 Exam in the following passage, so please go through it.
STEP 1: Login to the official website of MP Professional Examination Board or open a link placed below.
STEP 2: In a homepage, press the link labelled "Answer Key of MPPEB ANM Training Selection Test, 2020 2021".
STEP 3: Now, insert your Roll Number, Date of Birth, Select Date of Exam & Shift and then click on the "Submit" button.
STEP 3: At last, in a few seconds, your exam solution paper shift wise, i.e. Shift 1 & Shift 2 will display on the browser.
STEP 4: Download the PDF file of officially solved questions to your working device.
STEP 5: If necessary, then take a print copy for comparison to predict the outcome of your result & cut off marks.
Direct Link to MPPEB ANMTST 2020 Answer Sheet, Submit Objections
A candidate who has objections against MP PEB ANM Exam Model Answer/ Response Sheet may upload his/ her Objections with proof at the official website by entering his/ her login credentials on or before the due date. Objections received by any other mode shall not be entertained by officials.
Click here to download MPPEB ANM Model Answer Key Shift wise 2021 & Submit Online Question Objections
Check PEB MP ANMTST Result Cut off Marks 2021
Click here to visit MPPEB Office Website – http://www.peb.mp.gov.in
MP Vyapam ANM Training Selection Test Solution Key 2021 – Details
It is to notify that MP Vyapam ANM Training Selection Test 2020 Answer Key will be published online after 30-35 days of exam conductance. So, as of now, contenders should wait calmly till high authority completes the final preparation of MPPEB ANMTST Provisional Paper Solutions for First & Second shifts. Every candidate must know that an official answer key is an essential tool which helps in cross-checking the answers of questions faced by them in the examination. Once candidates login to the PEB web portal to check MP ANM Answer Sheet, they must first readout instructions that display on the screen for their knowledge.
Madhya Pradesh Professional Examination Board will upload the Auxiliary Nurse Midwifery Training Selection Test Model Key to their official web page only. After due consideration of objections, if any received, and if needed, after modifying the model answer sheet, the MP Vyapam ANM Final Answer Key may be published on the official website, simultaneously, with the declaration of result.
PEB MP ANM Exam Answer Key 2021 – Conclusion
Here we hope all those participants who are searching for MP ANM Official Answer Key and Cutoff Marks details finally they have got by reading our article. As and when released, contestants are advised to press on a link uploaded above to download their solved question paper sheet set wise. Bookmark this page with the help of Ctrl+D shortcut key if you are interested in grabbing latest updated news for MPPEB Auxiliary Nurse Midwifery Paper Solution, Cut off Marks, Merit List and Results. Applicants can ask us any of their doubts about this article and our team member will try their level best for the fast reply to your queries.
Applicants can stay alert on this page for collecting further updates related to PEB Madhya Pradesh Auxiliary Nurse Midwifery Exam Model Answers as we will inform you whenever released at the online web portal. BEST WISHES by our Tech UFO team for bright future ahead of job hunters. THANK YOU…!!
MP Vyapam ANMTST Answer Key 2021 – Frequently Asked Questions
When MP Vyapam ANM Answer Key 2021 will be Released?
The provisional key of Madhya Pradesh Auxiliary Nurse Midwifery Training Selection Test has been released on 22nd of February 2021 and will be available online for 10-12 days for submitting question objections.
From where can I Download MP PEB ANMTST Answer Key 2021 PDF?
You can download the Candidate Response Sheet of ANM Exam from the official website of Madhya Pradesh Vyapam – http://www.peb.mp.gov.in/ and also directly from a link at our website.
How to Submit Objections Against MPPEB ANM Answer Sheet 2021?
Candidates can submit their objections only by online mode through login to the website.
Will I need Document Proof to Raise MP ANMTST Answer Sheet Objections?
Yes. You have to upload the Document Proof with each objection. If you do not upload the proof, then your Objection will not be accepted by PEB.
Can I Edit my MP ANM Exam Objection once it submitted?
No. Objections once submitted cannot be edited later.
When will MPPEB ANMTST Result 2021 be Declared?
PEB MP ANM Training Selection Test – 2020 Result has announced on 07th of April 2021.