OJAS Gujarat Police PSI Call Letter 2022, Gujarat Police ASI PSI Exam Date, Gujarat UPSI APSI Admit Card, OJAS Police IO UASI Exam Hall Ticket, ojas.gujarat.gov.in Police Sub Inspector (PSI) Document Verification Call Letter Download Link Available Here:
Big News for Candidates!! OJAS Police Call Letter for Gujarat PSI Document Verification is Now Available for Download online. Gujarat PSI Bharti Board has scheduled to take the DV Examination on 12-08-2022 & 13-08-2022. Eligible candidates will get their Gujarat Police UASI IO UPSI APSI DV Admit Card and Exam Centre Details from an OJAS web portal. Here a direct link for downloading OJAS Gujarat Police PSI Call Letter 2022 is also available at the end of this article. Applicants can check more details on Gujarat Police Sub Inspector Exam Hall Ticket, procedure to download OJAS PSI Admit Card and Other Information from the below section.
LATEST UPDATE:

ગુજરાત પોલીસ PSI ભરતીની દસ્તાવેજ ચકાસણી તા.૧૨-૦૮-૨૦૨૨ તથા તા.૧૩-૦૮-૨૦૨૨ નારોજ યોજાનાર માટેના કોલલેટર તા.૦૬-૦૮-૨૦૨૨ નારોજ સાંજના કલાકઃ ૧૬.૦૦ વાગ્યાથી OJAS ની વેબસાઇટ ઉપરથી ડાઉનલોડ કરી શકાશે. કોલલેટર ડાઉનલોડ કરવા માટેની સીધી લિંક આ પેજની નીચે ઉપલબ્ધ છે.
OJAS Gujarat Police PSI Call Letter 2022 | Gujarat UPSI APSI IO UASI Exam Date, Admit Card @ojas.gujarat.gov.in
♦ PSIRB Exam Call Letter Summary ♦

Name of Board:
Gujarat PSI Recruitment Board (પો.સ.ઈ. ભરતી બોડ)
Rectt. Advt. No.:
PSIRB/2020-21/1
Exam Name:
ગુજરાત પોલીસ દળમાં વર્ગ-૩ ની પો.સ.ઇ. કેડર પરીક્ષા ૨૦૨૧
Total Posts:
1382 posts
Post Names:
1) UPSI – Unarmed Police Sub Inspector
2) APSI – Armed Police Sub Inspector
3) UASI – Unarmed Assistant Sub Inspector
4) IO – Intelligence Officer
Exam Application Dates:
16th to 31st March 2021 and 05th to 20th October 2021
Physical Test Date:
03rd December 2021 to 24th December 2021
Prelims Exam Date:
6th March 2022 (Sunday)
Main Exam Dates:
12th June 2022 (Paper-I & II) and 19th June 2022 (Paper-III & IV)
Document Verification Dates:
12th August 2022 & 13th August 2022
DV Call Letter Availability Dates:
6th August 2022 (04:00 PM onwards)
Admit Card Download Link:
Available Below
Official Websites:

www.ojas.gujarat.gov.in
https://psirbgujarat2022.in
www.home.gujarat.gov.in
www.police.gujarat.gov.in
Gujarat Police Sub Inspector ASI Call Letter 2022 – Overview
Gujarat Police Bharti Board (PSIRB) will conduct Main Examination for 1382 posts of Armed PSI Male, Unarmed PSI (Male/ Female), Unarmed Assistant Sub Inspector (Male/ Female) and Intelligence Officer as per schedule. Now Gujarat Police PSI Recruitment Board will issue Call Letter to eligible aspirants for appearing in the Mains Exam. The OMR based Main Exam shall consist of maximum 400 marks. The Date and Time of Gujarat PSI Cader Main Examination 2022 (ગુજરાત પો.સ.ઇ. કેડરની મુખ્ય પરીક્ષા ૨૦૨૨) along with other instructions will be intimated through the designated site – psirbgujarat2022.in. Candidates will not get an entry if they do not have Gujarat Police PSI Mains Call Letter at the Test Centre.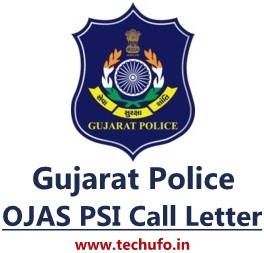 Contestants appearing for Main Exam can download Gujarat Police UASI / IO / UPSI / APSI Call Letter from ojas.gujarat.gov.in URL link that we have shared below. Here to access OJAS Police SI ASI Exam Hall Ticket from the official website, login details (Confirmation Number and Birth Date) will be required compulsorily.
Gujarat Police PSI Admit Card 2022 – Details
OJAS Gujarat Police Call Letter for APSI, UPSI, IO and UASI Exam will be released online. It will not be sent by post or courier to the residential address of candidates. Applicants will get around 15 to 20 days for downloading their Admit Card of Gujarat PSI Exam by visiting the online web portal. So candidates are advised to take a print of their Hall Ticket well in advance to avoid a last-minute rush. Gujarat PSI Call Letter for Physical Exam, Preliminary Exam & Mains Exam will be issued separately by the Bharti Board to eligible candidates.
Candidates must set their Printer Setting in A4 Size & Portrait Layout mode while taking a print of OJAS Police Sub Inspector Call Letter. Hence, it can display on 02 pages. There will be an Attendance Form on the first page of Admit Card and Exam related Instructions for candidates on the second page.
Applicants should check the details mentioned on their Hall Ticket of Gujarat Police UASI PSI Exam. Report to the Bharti Board at the earliest in case of any discrepancy. OJAS Call Letter will showcase details such as Name, DOB, Category, Roll Number, Post Name, Photo, Signature, Exam Date, Examination Centre Name and Timings of Exam, etc.
Steps to Download OJAS Gujarat Police UASI UPSI APSI Document Verification Call Letter 2022
Candidates who are not aware of How to Get OJAS Gujarat PSI Exam 2022 Admit Card from the online portal should not worry. Just check the below steps, follow them and download your GUJ Police Sub Inspector/ Intelligence Officer Hall Ticket easily:-
1st Step – Visit the OJAS website – https://ojas.gujarat.gov.in
2nd Step – Navigate to the "Examination Call Letter" section available on a homepage.
3rd Step – Open a link named "Call Letter for Gujarat Police UASI / IO / UPSI / APSI Document Verification, 2022".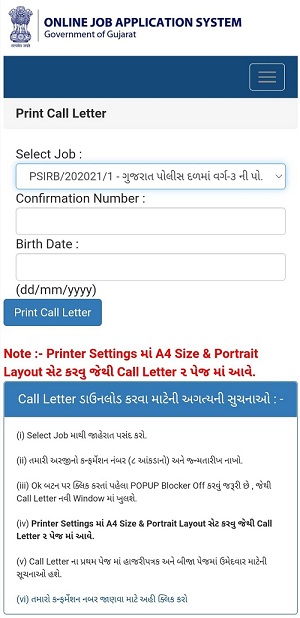 4th Step – Select Job (i.e. PSIRB/2020-21/1), Insert Confirmation Number of 08 Digits and Birth Date (dd-mm-yyyy) in a login page.
5th Step – Press the "Print Call Letter" button after filling up the necessary details.
6th Step – A pdf file of your GUJ Police Sub Inspector ASI Admit Card will appear on the screen.
7th Step – Download the Hall Ticket PDF file to your device.
8th Step – Print a copy of your Admit Card in A4 Size paper to bring on the exam day.
Important Links for OJAS Gujarat PSI 2022 Admit Card
Documents to Bring at Gujarat Police PSI Exam Centre
Aspirants should report at the Examination Centre as per schedule given in their Gujarat Police APSI UPSI UASI Hall Ticket along with necessary documents. Following is the list of documents required at the test centre on the day of exam:-
Print Out of the Call Letter downloaded from the OJAS Website
Valid ID Proofs (i.e. Aadhar Card, Driving License, Voter ID Card, PAN Card, Passport, etc.) in Original & Photocopy
Two Passport-sized Photographs
Any other documents specified in Admit Card.
OJAS Gujarat PSI UASI Hall Ticket 2022 – General Guidelines
Here are the few Important Points that every applicant should note down before attending the examination:-
It is the responsibility of every applicant to download & print their Gujarat Police UASI APSI UPSI Call Letter from the OJAS online portal.
The Bharti Board will not take any responsibility in case any candidate miss the exam due to any reason.
Without a valid Call Letter in Hard copy and Photo Identity Card, no candidate will be allowed to enter the Physical/ Prelims/ Mains Examination Centre.
A candidate must make sure that his/ her photo and other details on the printed call letter and ID card are clear & legible.
OJAS Police Hall Ticket provisionally allows candidates to appear in Main Test based on their particulars provided in the online application. Hence, merely issuance of Admit Card does not necessarily mean acceptance of their eligibility for the recruitment.
Applicants have to reach the exam centre on date & time as specified in their Admit Card. Latecomers will not be permitted to take the test.
Any kind of electronic gadget (smartwatches, smartphones, Bluetooth devices, etc.) is strictly prohibited inside the test centre. If any candidate found with such items, then debarred from the examination process.
No candidate shall be allowed to leave the GUJ UASI APSI UPSI Main examination venue before the conclusion of their test.
For queries or help, Candidates can Contact PSI Recruitment Board at Helpline Number (1800 233 5500) or Postal Address at Bungalow No. G-13, Sector-9, Gandhinagar – 382009.
Gujarat Police SI ASI IO Exam Pattern 2022
Here's a complete structure of the PSI Recruitment Examination in the below tables:-
♦ Main Exam Structure ♦
Paper
Topics/ Subjects
Maxi. Marks
Time Duration
Paper 1
Gujarat Language
100 marks
2 hours
Paper 2
English Language
100 marks
2 hours
Paper 3
General Knowledge
100 marks
2 hours
Paper 4
Law
100 marks
2 hours
♦ Preliminary Exam Structure ♦
Topics/ Subjects
No. of Questions
Maxi. Marks
Time Duration
General Knowledge, Current Affairs, Psychology, History, Geography, Social Studies, General Science, Mental Ability, etc.
100 ques.
100 marks
02 hours

The preliminary written exam will be OMR (Optical Mark Reader) based.
The prelims test will have Objective type MCQs (Multiple Choice Questions).
The question paper of prelims test will be in Gujarat Language only.
Negative marking will be of 0.25 mark for every wrong answer.
There are no negative marks for those questions left unanswered.
The qualifying marks in preliminary test is minimum 40%.
The total duration of prelims is of 120 minutes.
♦ Physical Efficiency Test Structure ♦
Categories
Name of Test
Duration
Male
5000 meter run
Maxi. 25:00 minutes
Female
1600 meter run
Maxi. 09:30 minutes
Ex-serviceman
2400 meter run
Maxi. 12:30 minutes
Check the following chart showcasing the Distribution of Marks in PET Exam:-

♦ Physical Standard Test Structure ♦
Categories
ST Category
Other than ST Category
Male
Female
Male
Female
Height (Cm)
162
156
165
158
Chest (Cm)
79 (Un-expanded)
—
79 (Un-expanded)
—
84 (Expanded)
84 (Expanded)
Weight (Kg)
50
40
50
40
CONCLUSION: We are ending this article on ગુજરાત પોલીસ પી.એસ.આઇ. ભરતી પરીક્ષા કોલ લેટર here. Hope candidates have got OJAS Hall Ticket related all details by visiting our blog. Let us know through below comment segment if you have any query about Gujarat PSI Exam Call Letter. Stay tuned at www.techufo.in for updates on GUJ Police UASI IO APSI UPSI Exam Date & OJAS Admit Card.
FAQs About OJAS Gujarat PSI Bharti Exam Call Letter 2022
Following are the Frequently Asked Questions (FAQ's) regarding the OJAS Admit Card/ Call Letter of Gujarat PSIRB 2021-22 Exam so let's have a quick look:-
When will Gujarat Police issue OJAS PSI Main Exam Call Letter 2022?
Gujarat PSI Bharti Board will release Admit Card on 5th June 2022 for Main Examination dated 12th June 2022 while on 12th June 2022 for Main Exam dated 19th June 2022.
When will Gujarat PSI Main Exam 2022 Date be Announced?
The dates for organizing the Main Examination (OMR based) of PSI Recruitment are 12th June 2022 (Paper-1 Gujarati language & Paper-2 English language) and 19th June 2022 (Paper-3 General Knowledge & Paper-4 Legal Matters).
How to Download OJAS Gujarat Police PSI Call Letter 2022?
Candidates will have to visit https://ojas.gujarat.gov.in to download their Hall Ticket for Gujarat PSI Bharti Board Exam by providing their login credentials.
Can I Get a Hard Copy of Gujarat Police UASI IO UPSI APSI Admit Card by Post?
No. You need to download your Call Letter from the designated site and then make it hard copy by taking a print out in A4 size paper.
Which Credentials Required for Downloading OJAS Gujarat Police Hall Ticket 2022?
Applicants will need their Confirmation Number [અરજીનો કન્ફર્મેશન નંબર (૮ આંકડાનો)] and Birth Date (જ્ન્મતારીખ) for downloading the PSI Hall Ticket from an online portal.
What is the Helpline Number for Gujarat Police Bharti PSI Call Letter?
Candidates can contact at the following Helpline Number (Call Timings: 10:30 a.m. to 6:00 p.m) for Call Letter related queries:-
(a) 9104654216
(b) 8401154217
(c) 7041454218
I have Forgot my Confirmation Number, so How do I Get it Back?
You can Get Back your Confirmation Number from the OJAS Website by submitting the required details like (a) Advertisement Number and Application Number OR (b) Mobile Number and Date of Birth.
What is Gujarat PSI Physical Test Date 2021?
The Physical Test for UASI, IO, UPSI & APSI posts will be held from 03rd December 2021. The Test of Male Candidates will be completed on 24th December 2021 while of Female Candidates on 28th December 2021. The physical test will not be held on Sunday.
How many Applications Received for Gujarat Police PSI Bharti Exam 2022?
A total of 5.50 lakhs applications have been received by the Recruitment Board for UASI, IO, UPSI & APSI Posts.
ગુજરાત પો.સ.ઇ. કેડરની પરીક્ષા માટે તમામ ઉમેદવારોને શુભકામનાઓ…!!