SSC Constable GD Answer Key 2023, ssc.nic.in GD 2022 Answer Sheet, SSC CAPF Constable Paper Solutions, SSC GD Constable (10th Jan to 14th Feb 2023) Exam Answer Key Set wise PDF Download Link Available Here:
Staff Selection Commission will upload the provisional Answer Key of SSC Constable (GD) Written Examination 2023 (Tier-I) at its official website. A massive number of candidates had appeared for Computer Based Online Exam from 10-01-2023 to 14-02-2023. As we know, candidates are waiting for SSC GD solved question paper to review their answers, performance and estimate marks. Candidates can download SSC Constable GD Answer Key 2023 in PDF format from a direct link attached below. Read on this article for complete details on SSC GD Constable Exam Answer Sheet, Process to Submit Objections, etc.
LATEST UPDATE:
SSC GD Official Tentative Answer Key 2023 Released Soon For Downloading Response Sheet, Tentative Keys and Submitting Representation (if any) From A Quick Link Given On This Page At The Bottom.
SSC Constable GD Answer Key 2023 | SSC GD Response Sheet, Paper Solution Sets PDF @ssc.nic.in
♦ SSC GD Answer Key Overview ♦
Exam Organizer:
Staff Selection Commission
Exam Name:
Constables (GD) in CAPFs, NIA & SSF, Rifleman (GD) in Assam Rifles (AR) and Sepoy in NCB Examination 2022
Total Vacancies:
46435 vacancies
Exam Type:
Computer Based Examination (CBE) of MCQ Type
Online Exam Dates:
10th January 2023 to 14th February 2023
Provisional Key Release Date:
In Last Week of February 2023 (expected)
Dates to Submit Challenges, View Response Sheets & Correct Answers:
Announced Soon
Mode of Releasing Answer Key:
Online mode only
Ans Key Challenge Fee:
Rs. 100/-
Final Answer Key Availability Dates:
Announced Soon
Result Release Date:
Announced Soon
Official Website:
https://ssc.nic.in
SSC GD Constable Answer Key 2023: Summary
Staff Selection Commission has successfully conducted Computer Based Written Examination from 10th Jan 2023 to 14th Feb 2023 for Constables (General Duty) in Central Armed Police Forces (CAPFs), NIA, SSF and Rifleman (GD) in Assam Rifles Examination, 2022. The exam had held in Morning, Afternoon and Evening shifts at different centres all over the country. The CBT had 01 objective type paper containing 100 MCQ type questions carrying 100 marks. Now candidates can check the correct answers of SSC GD Constable Exam Questions asked from General Intelligence & Reasoning, General Knowledge & General Awareness, Elementary Mathematics and English/ Hindi by downloading the Official Key.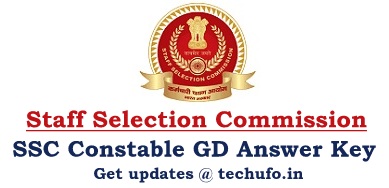 It is to notify that SSC Constable (General Duty) Official Solution Key & Response Sheet will be downloadable only through login by using Roll Number, User ID and Password. Therefore, a login link to view your SSC GD Response Sheets, Tentative Answer Keys and Submission of Challenges is available below to this web page.
SSC Constable GD Answer Sheet 2023 Shift wise: Details
SSC Constable GD Exam Answer Sheet Date wise & Shift wise will be issued in online mode after completion of the exam. The experts will prepare paper solution sets so that candidates can compare their answers with questions faced by them. Hence by this, aspirants can predict overall performance & average marks before the release of result. In case of any discrepancy or not being satisfied with the answers given in SSC GD Provisional Answer Key, candidates can raise objections and challenge the answer on the official website at the specified time only. For representations, aspirants should pay some amount as prescribed by the Staff Selection Commission.
Whenever Staff Selection Commission Constable General Duty Tentative Key is released, contestants have to log in using their details and submit representations, if any, through online method only, on payment of Rs. 100/- per challenge. Candidates should take a printout of their respective SSC CAPF Constable Response Sheets, as the same will not be available after a specified time limit.
How to download SSC GD Written Exam Answer Key 2023?
Aspirants have to follow the below prescribed steps to download the Official Answer Sheet of SSC Constable (GD) Exam 2023 by visiting the official website – https://ssc.nic.in:-
1st Step – Visit the official website of Staff Selection Commission, i.e. ssc.nic.in
2nd Step – Go to the "ANSWER KEY" section available on the homepage.
3rd Step – Open a link titled "Uploading of Tentative Answer Key(s) along with Candidates' Response Sheet(s) – Constables (GD) in CAPFs, NIA & SSF, Rifleman (GD) in Assam Rifles (AR) and Sepoy in NCB Examination 2022".
4th Step – A PDF page of the Official Notice will appear, read it properly and then press on the Answer Key Download link attached at the end of the PDF.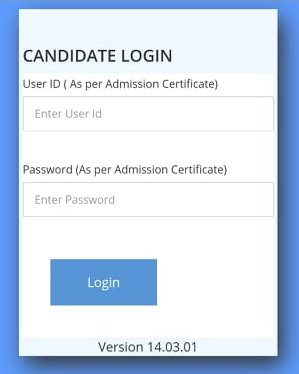 5th Step – Select the Exam Name and then submit your details such as User ID (i.e. Roll Number) & Password (as per Admission Certificate) on a login page.
6th Step – Finally, the response sheet & exam paper solution set in a pdf file will appear on the screen.
7th Step – Download the copy of solved answer sheet for comparison.
Official Links for SSC GD 2022 2023 Answer Key
Candidates who have given SSC Constable GD Exam 2023 can download the Tentative Answer Key & their respective Response Sheet from the below given login link by submitting the Roll No. and Password:-
SSC Constable GD 2022-2023 Tentative Answer Key, Response Sheet & Submit Representation
SSC Constable GD Final Answer Key 2023
SSC General Duty Constable Final Answer Key and Question Paper(s) will be released after scrutinizing the objection raised by candidates. If the challenges are correct, then the authority will make necessary changes and release the final solution key. Aspirants will get one month to download & take a printout of their respective SSC GD Question Paper(s) along with the Final Answer Keys from an official link uploaded to the online portal. An official Final Key will be published to ensure greater transparency in the examination process. We will inform you whenever the final answer key published on the official website.
Hello, Friends!! For all details on Staff Selection Commission CAPF Constable Online Exam Key, Result/ Merit List & Cut Off Marks, visit our website (www.techufo.in) regularly. We will update all information on SSC Constable GD Exam Paper Solution on this web page. In the below comment box, candidates can share their exam marks and queries regarding the paper solution. We will try to respond to the queries as soon as possible.
SSC GD 2022 2023 Answer Key FAQs
Check out the Frequently Asked Questions below for SSC Answer Key of CAPF Constable (General Duty), Sepoy in NCB & Assam Rifles Rifleman GD Exam so that you can address your queries:-
When is SSC Constable GD Answer Key 2023 Releasing?
The Tentative Answer Key of Staff Selection Commission CAPF General Duty Constable Exam is expected to be released in the last week of February 2023.
How will I get my SSC GD Constable Exam Response Sheet & Answer Key 2023 PDF?
You will get your SSC answer key of Constable (General Duty) CAPFs, NIA, SSF and Assam Rifles Rifleman (General Duty) Examination 2023 from the online portal – https://ssc.nic.in/Portal/AnswerKey. You can download day wise & shift wise paper solutions PDF by following the step-wise procedure that we have given in this blog.
Which details are required for Login to Download Answer Key of SSC GD 2023?
The Login Credentials like SSC GD Constable Examination Roll Number and Password will be required.
Does Staff Selection Commission release Set-wise Constable (General Duty) Answer Keys 2023?
Yes, set-wise provisional keys will be released by the Commission. Candidates can download the answer sheet for all sets, including Set A, Set B, Set C and Set C.
How many days will I get to submit challenges against SSC GD Provisional Key 2023?
Candidates will get around 06-07 days for submission of challenge through online method only.
Is there any charge for submitting SSC GD Answer Key challenges 2023?
Yes, Rs. 100/- (Rupees One Hundred Only) per challenge which is mandatory for all candidates.
Is it possible to submit representation after the due date?
No, it is not possible as you can submit challenges until the deadline only.
Can I able to take a printout of the Response Sheets/ Question Paper after the deadline?
No candidates can print their Response Sheet after the due date, as the login link will be disabled after the specified time limit.
Once I submit the objections, is it possible to edit later?
Objections once submitted cannot be edited later. (एक बार आवेदित की गई आपत्तियों को बाद में बदला नहीं जा सकता है।) Also, objections must be entered only in English.
Which web browsers are best suitable to login & fill the form?
We recommended browsers such as Internet Explorer (version 10 to 11) OR Mozilla Firefox (48 to 63) OR Google Chrome (version 50 to 69).
SSC Constable GD 2022 2023 Result & Cut Off Marks will be declared on which date?
The result of SSC GD Constable Written Exam is expected to declare in the month of March or April 2023.
Is there will any change in the SSC GD Tentative Key after reviewing the Objections submitted by candidates?
Yes, the answers may change in answer keys finalized after Objection Management. The evaluation will be done on Final Answer Keys. Hence, the Final Answer Keys are to be used for the evaluation of performance of candidates in the Examination.
When will SSC GD 2023 Final Key & Question Paper be uploaded to the Commission's Website?
The Commission will upload Final Keys along with Question Paper of Aspirants around 20 (twenty) days after the result declaration date. The facility to view final keys will be available for candidates for a period of 01 (one) month only.
Can I challenge SSC GD Final Answer Sheet 2023 if find any error?
There is no way to challenge the Final Answer Key.
"GOOD LUCK & BEST WISHES by Tech UFO…!!"