JNVST Class 6 Admit Card 2023 navodaya.gov.in, JNVST 2023-24 Class 6 Exam Date, Navodaya Vidyalaya Class-VI Admission Entrance Exam Hall Ticket, JNV 6th Class Selection Test Admit Card Download Link Available Here:
NVS has released the JNV Admit Card for Class 6 Selection Test 2023 for downloading by candidates. Navodaya Vidyalaya Samiti has scheduled to conduct JNVST on 29th April 2023 for Admission to Class VI for the academic session 2023-24. Candidates need to use their login credentials – Registration Number and Password for downloading NVS Class 6th Entrance Test Hall Ticket from cbseitms.rcil.gov.in/nvs. To download JNVST Class 6 Admit Card 2023, a direct link is attached to this page at the bottom. Read on as we have covered detailed info on the Jawahar Navodaya Vidyalaya Admit Card of Selection Test for Admission in 6th Class 2023.
LATEST UPDATE:
Admit Card For 29th April JNVST 2023 Class VI Exam Is Available Now For Downloading From A Login Link Provided Below This Article.

Let's check out JNV Selection Test Admit Card Overview from the tabular column placed below before downloading the Hall Ticket for NVS Class VI Admission Exam 2023-24:-
| | |
| --- | --- |
| Organizer Name: | Navodaya Vidyalaya Samiti (NVS) |
| Exam Name: | Jawahar Navodaya Vidyalaya Selection Test (JNVST) – 2023 |
| Class Name: | Class 6th |
| Academic Year: | 2023-24 |
| Application Due Date: | 31st January 2023 |
| Admit Card Release Date: | 3rd April 2023 onwards |
| NVS Class 6 Exam Dates: | 29th April 2023 (Saturday) |
| Exam Time: | 11:30 am to 01:30 pm |
| Releasing Mode of Admit Card: | Online mode |
| Centre for Exam: | As indicated on the Admit Card |
| Official Email ID: | ithelpdesk.nvs@gmail.com |
| Official Website: | www.navodaya.nic.in |
JNVST Admit Card Class VI 2023: Summary
Navodaya Vidyalaya Samiti has announced JNVST 2023-24 for Class VI Entrance Exam and invited online applications upto 31-01-2023. A massive number of students have registered for admission to Class 6 in JNVs. As per schedule, Jawahar Navodaya Vidyalaya Selection Test will be held on Saturday 29-04-2023 at 11:30 AM in 1 (one) phase for all Jawahar Navodaya Vidyalayas. Contestants will get complete details about their JNV Selection Test Examination Centre from JNVST Class VI Admit Card PDF. Therefore, it is the responsibility of candidates to generate their NVS Class 6 Exam Hall Ticket well within the time limit and go through the guidelines given in it.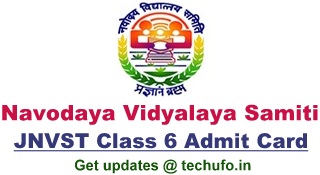 NVS Admit Card is a very important document for students appearing in JNV Selection Test as it is a kind of ID Proof to get entry into the examination centre. Only those who have a valid copy of hall ticket will be allowed to appear for Class VI JNV Selection Test.
Admit Card of Jawahar Navodaya Vidyalaya Selection Test for Class 6 will be downloaded online from the website of NVS, HQ through the admission portal only. NVS Hall Ticket will be downloadable free of cost by every student/parent much before JNVST Class 6th Exam Date. Navodaya Admit Card link will be made available for around 25-30 days at the application portal so that students can get enough time. JNVST Hall Ticket will be issued only to those students whose application form submitted successfully in all respects within the closing date. JNV Hall Ticket contains all necessary information regarding the student, examination & Important instructions.
Check JNVST 2023-24 Class 6 Result State wise
Information Printed on JNVST 2023 Class 6 Call Letter
The complete list of details mentioned on Navodaya Class-VI Entrance Exam Admit Card/ Hall Ticket are as follows:-
Name of the Exam Conducting Authority
Name of the Examination
Details of Student/ Candidate

Candidate's Name
Father & Mother Name
Photograph & Signature
Address & Contact No. of the Candidate
Date Of Birth – DOB
Gender (Male/ Female/ Transgender)
Caste Category (GEN, SC, ST, EWS, OBC, Divyang, etc.)
Area, Alpha Code, etc.
Disability of Candidate
Registration Number
Roll Number

Details of Class VI JNVST Exam Center

Name of State, District & Block
Examination Center Number
Name & Address of Examination Center
Date & Time of Examination
Reporting Time at the Exam Centre
Exam Language

Space for Student's/ Parent's Signature
Space for Signature of Exam Supervisor
Important Guideline for Students
Students/ Parents need to check JNVST Exam Hall Ticket properly. In case of any correction in NVS call letter, students/ parents must contact the Navodaya Vidyalaya Samiti through Help Desk Number, i.e. 0120-2975754
Steps to Download JNV Class 6th Selection Test Admit Card 2023
Following are the simplest and easiest procedure for downloading Class 6 Admit Card of JNVST 2023. Thus, students are advised first to check the steps underneath and then follow it accordingly to get Jawahar Navodaya Vidyalaya Class-VI Entrance Exam Hall Ticket:-
1st Step – Visit the NVS official website – https://navodaya.gov.in/
2nd Step – Click on a link named "Download JNV Admit Card for Class VI Selection Test – 2023" on a homepage.
3rd Step – An Official NVS Admission Page will appear. It showcases the Student Login window.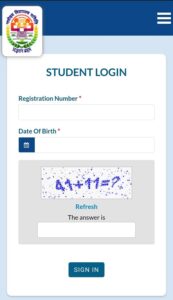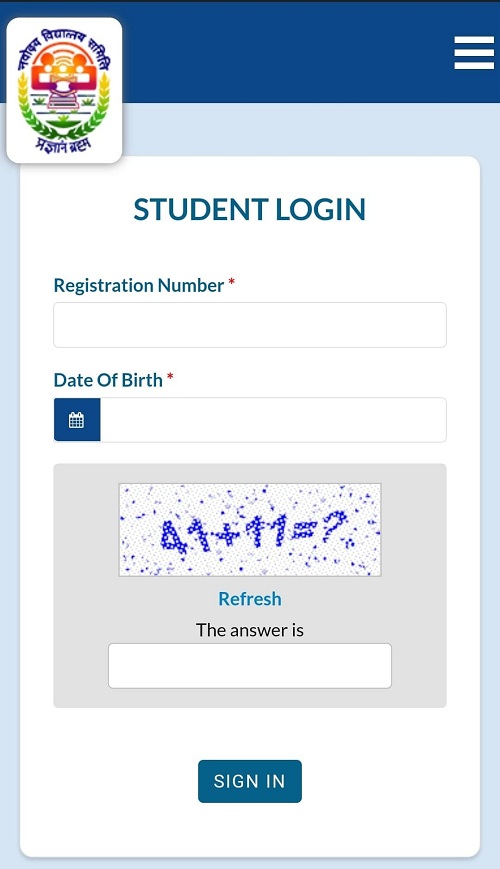 4th Step – Insert your "Registration Number/ User ID", "Password/ Date of Birth", "Captcha Code" as given and then press the "Login/ Sign In" button.
5th Step – Your Navodaya Hall Ticket for Class 6 Admission Exam will finally display on the screen.
6th Step – Download the NVS Class-VI Entrance Exam Admit Card PDF Copy, take a printout and carry it to the examination centre.
Students can download & print a hard copy of Navodaya Vidyalaya Class 6 Admit Card from a direct link shared below by logging in with the help of their Registration No. and Password. Kindly download the JNV Class VI Admission Exam Admit Card much the test date to avoid last-minute glitches at the following login link:-
Download JNVST Class 6th Admit Card 2023 [Live Now]
JNVST (Class VI) 2023-24 Admission Portal
Document Required to JNVST Class 6 Exam Centre
Candidates will mandatory need to bring the following documents to appear for Class VI JNV Selection Test 2023:-
A Hard Copy of the JNVST 2023 Class VI Admit Card
Aadhar Card of the Candidate; OR the Government approved residence certificate of the Parent uploaded in the application portal.
Here's the List of General Information for Students appearing in the Jawahar Navodaya Vidyalaya Selection Test of Class-VI:-
Without a Proper Hard Copy of the JNV Selection Test Admit Card, candidates will not be allowed to appear in the examination.
To avoid problems at the last moment due to heavy traffic, try to download the JNV Exam Hall Ticket soon after release at the NVS website.
Make sure to take a print of the Navodaya Vidyalaya Entrance Exam Admit Card properly so that the information given on it should be visible clearly.
The photo printed on the Admit Card must match the candidate at the time of verification by the invigilator at the examination centre.
Must appear for JNV Selection Test at the examination centre allotted/ indicated on the Hall Ticket.
Students have to reach their seats in the allotted rooms by 11 AM. Latecomers will not get permission to attend the test.
It is compulsory to bring a Blue or Black Ball Point Pen to write on the OMR Sheet at the examination hall. The use of a pencil is strictly prohibited.
Do not bring any Books/ Loose Sheets or any Electronic gadgets to the examination hall.
Students will not be permitted to leave the examination room till the completion of the full allotted time.
Carefully read the Important Guidelines or Instructions related to NVS Admission Exam mentioned on Admit Card and follow it while attempting the test.
Candidates will have to follow all COVID protocol guidelines as given in the Hall Ticket.
Students will be issued a Test Booklet in the language indicated by them in their application form.
JNVST Class 6 Exam Pattern 2023
JNVST Examination will be conducted in various languages state wise. NVS Selection Test of two-hour duration will have 03 sections of Objective type questions. So check the below table showing JNV Selection Test Pattern for Class 6th:-
Section
Test Names
Number of Questions
Maximum Marks
Time Duration
I
Mental Ability Test/ मानसिक योग्यता परीक्षा
40 ques.
50 marks
60 minutes
II
Arithmetic Test/ अंकगणित परीक्षा
20 ques.
25 marks
30 minutes
III
Language Test/ भाषा परीक्षा
20 ques.
25 marks
30 minutes
TOTAL ⇒
80 ques.
100 marks
2 hours

A separate OMR (Optical Mark Recognition) sheet comprising 03 sections will be provided to each student.
There will be a total of 80 questions for 100 marks. Each question carries 1.25 marks.
No negative marking will be done for the wrong answers.
Each of the three sections will have separate time duration.
The total time duration would be of 02 (two) hours without any break.
Divyang students will get an additional time of 30 minutes.
Section-I will have 10 (ten) parts. Separate directions are given for each part.
It is essential to secure qualifying marks in each of the 03 (three) sections.
It is advised not to spend more time on each section of the test than suggested, although free to adjust the total time.
Marks scored in the test by candidates will not be revealed by the authority.
Refer to the Prospectus for more details about the Method of Recording Answers & Nature of the test, etc.
CONCLUSION: Here we are ending this article on Admit Card for JNVST Class-VI. We hope students/ parents have got all the essential information. After reading this blog, all those who have any question/ query regarding JNVST 6 Class Exam Date, Examination Centre & Hall Ticket can share it with us in the comment box below. For more details and time to time news update about Navodaya Vidyalaya 6th Class Admission Entrance Exam 2023-24 Admit Card & Result/ Merit List, follow our page @ www.techufo.in.
Following are some of the most frequently asked questions on Navodaya Class-VI Selection Exam 2023 Admit Card/ Hall Ticket/ Call Letter, so let's have a look to clear your doubts:-
Will I get Hard Copy of NVS Class VI Admit Card 2023 by Post?
No. Students/ Parents will first have to download the soft copy of hall ticket from the online portal and then make a hard copy of it for appearing in JNVST.
How to Download JNVST 2023 Admit Card for Class 6th?
Candidates/ Parents can download the Admit Card for NVS Class 6 Admission Exam by logging to www.navodaya.gov.in or cbseitms.rcil.gov.in/nvs and also from a direct link available at our website.
When will JNVST Class 6 Admit Card 2023 be Released?
Navodaya Vidyalaya Samiti will release Hall Ticket with effect from the 03rd of April 2023 for JNV Class 6 Selection Test for all States & UTs and will be available for download till the 29th of April 2023.
What is the Date of JNV Class 6 Selection Test 2023?
Jawahar Navodaya Vidyalaya Selection Test (JNVST) for Class-VI Admission to all JNVs for the Academic Session 2023-24 will be held on 29th April 2023 (for all States & UTs).
Which are the login details required to access Navodaya JNVST 2023 Hall Ticket?
The Registration Number and Password received through SMS during the JNVST exam registration will be login details for generating the Class VI admit card.
Is there any possibility to change Navodaya Vidyalaya Class 6 Exam Centre?
No request for a change of examination centre will be entertained. Candidate will not be permitted to appear from any other center for any reason.
How to Find JNV Selection Test Registration Number?
Visit https://cbseitms.rcil.gov.in/nvs, click on the "Find Your Registration No." option and then submit the required details (Candidate Name, Father Name, Mother Name & Date of Birth) same as entered during the registration.
How many students are appearing for Jawahar Navodaya Vidyalaya Selection Test 2023?
A total of around 2,41,7009 students have registered for the NVS Class-VI Selection Test. The test will be conducted for the selection of 47,320 students in 11,182 centres.
What's the Helpdesk Number for Class VI JNVST 2023?
0120-2975754 is the Official/ Valid Helpline Number for JNV Class 6 Selection Test 2023.
"BEST OF LUCK, Dear Students…!!"