Delhi Police Head Constable Ministerial Admit Card 2022, SSC DP HCM Admit Card, SSC Delhi Police HC Ministerial Exam Date, DP Head Constable (Min) Call Letter/ Hall Ticket Download Link Region wise Available Here:
Friends, are you willing to download your SSC Delhi Police Admit Card for Head Constable (Ministerial) Written Exam 2022?? Staff Selection Commission has uploaded DP HCM Online Exam Call Letter to its official websites of the concerned Regional Offices. Also, we have given an SSC Delhi Police Head Constable Ministerial Admit Card 2022 Link Region-wise below this article. Aspirants can print Delhi Police HC Ministerial Hall Ticket from the online portal only by providing their Registration ID & DOB. Go through the below passages as all details belong to DP HC (Min) Call Letter Release Date, SSC DP Head Constable Exam Dates, Steps to Download Hall Ticket and Important Instructions.
LATEST UPDATE:
SSC Delhi Police HC Ministerial 2022 Admit Card Released For

SR, NR, KKR, ER, NWR, MPR, CR, WR & NER Region

; Download E-Admit Card & Check Application Status From A Link Shared Below. SSC DP HCM CBE To Be Held From 10th October To 20th October 2022. Stay In Touch For Further News.

Delhi Police Head Constable Ministerial Admit Card 2022 | SSC DP HCM Written Exam Date, Call Letter @ssc.nic.in
♦ SSC DP HC (Min) Admit Card Overview ♦
Conducting Body:
Staff Selection Commission – SSC
Department Name:
Delhi Police – DP
Exam Name:
Head Constable (Ministerial) Examination 2022
Total Vacancies:
835 vacancies
Selection Process:
Computer Based Exam, Physical Test (PE&MT), Typing Test and Computer Formatting Test.
Online Registration Dates:
17-05-2022 to 16-06-2022
Mode of Admit Card:
Online mode only
Downloading of Call Letter:
03 to 07 days prior exam date
Date of Written Examination:
10-10-2022 to 20-10-2022
Physical Exam Date:
To be notified later
Official Website:
www.delhipolice.nic.in & ssc.nic.in
SSC Delhi Police HC Ministerial Admit Card 2022 – Summary
Staff Selection Commission (SSC) is going to conduct Delhi Police Head Constable (Min) Examination 2022 in the 'Computer Based Examination' (CBE) Mode on a Pan India basis. The Commission has notified all aspirants about Delhi Police Schedule for HC Ministerial Online Exam 2022 through its official portal & on the Delhi Police website – delhipolice.nic.in so they can start their arrangements accordingly. Candidates who have successfully applied have been assigned Roll Numbers and issued SSC Delhi Police HCM Admit Card for appearing in the Computer Based Examination. There is no way a contestant will be allowed to change their SSC DP HCM Exam Centre, Date or Time for any reason.

Here in the Delhi Police HC Ministerial Recruitment Admit Card, candidates will find their scheduled date for examination and other general instructions regarding the test. Candidates will get a direct link for downloading SSC Delhi Police Head Constable Ministerial Call Letter based on their regions, i.e. NER, CR, ER, NWR, SR, MPR, WR, KKR & NR, from this blog by scrolling down.
DP Head Constable (Ministerial) 2022 Admit Card – Details
Delhi Police Head Constable Hall Ticket; indicating Roll Number, Allocated Test Centre Name and Exam Guidelines will be available for successfully registered candidates based on the online data at an official site. Candidates can download DP HC (Min) Call Letter from the website of the concerned SSC Regional Offices. SSC will provide around 03 to 07 days for downloading the Hall Ticket before the DP HCM exam date. Delhi Police HCM Admit Card for Online Written Exam, Physical Endurance & Measurement Test and other tests will be issued one by one to eligible aspirants by online mode only and not separately by post. However, correspondence regarding the exam would be done through Email only.
All participants have to print their DP Admit Card on full A4 size Paper (Portrait). Not a single contestant will be allowed without Delhi Police HC Ministerial e-Admit Card, ID Proof and Passport Size Photo to sit in the examination. Applicants are strictly advised to follow all those detailed instructions given in their Call Letter of Delhi Police HC (Min) Exam 2022.
How to download Delhi Police Head Constable Ministerial Online Exam Admit Card 2022?
Candidates! If you are confused about how to collect SSC Admit Card for the Post of Head Constable (Min) in Delhi Police Exam 2022, then don't get tensed as we have mentioned some simple & easily steps here. Once released, applicants can download their DP Head Constable Exam Hall Ticket from the online portal by going through guidelines step wise as follows:-
1st Step – Open the official website of SSC, i.e. ssc.nic.in.
2nd Step – Press on the 'Admit Card' tab present at the top bar of the home page.
3rd Step – Choose your Regional website and click on it to open it.
4th Step – Click on the link titled 'STATUS/ DOWNLOAD ADMIT CARD FOR HEAD CONSTABLE (MINISTERIAL) IN DELHI POLICE EXAMINATION, 2022'.
5th Step – Enter your 'Registration ID/ Roll Number/ Name, Date of Birth' and other details if asked to enter.
6th Step – Enter the captcha (if asked for) and then press the 'Download' button.
7th Step – Your hall ticket in PDF format will display in the web browser.
8th Step – Download the call letter and take a hard copy for participation in the test.
Official Links to Download SSC Delhi Police HCM 2022 Admit Card
All registered aspirants can download their Delhi Police Head Constable (Min) Exam Admit Card and Check Application Status from the respective SSC regional websites direct link is provided below:-
Information Printed on DP HC Ministerial Hall Ticket 2022
Crosscheck all details in DP Head Constable (Ministerial) Call Letter after the download process as small misprints may cause difficulty. In Delhi Police Call Letter for Head Constable (Ministerial) Posts, you will get to see the following details:-
Candidate's Details [Name, Father/ Mother/ Husband Name, Photo, Signature, Communication Address, Roll Number, Registration/ Application Number, Category (GEN, EWS, OBC, SC & ST), Gender (Male/ Female), Date of Birth – DOB, etc.]
Exam Details [Name of the Examination, Date of the Examination, Reporting Time, Entry Closing Time, Name of the Test Centre, Examination Centre Code, Venue to the Exam Centre, etc.]
Space to Affix Latest Passport Size Colored Photograph of Candidate
Space for Invigilator's Signature.
Space for Candidate's Signature
Signature of the Examination Councillor
Important Instructions for the Test
Delhi Police Head Constable Call Letter 2022 – Key Instructions
01) Documents to carry along with DP HC Ministerial Admit Card as follows:-
» Photocopies of Application Form
» At least 02 (two) passport size recent colour photograph
» 01 (one) photo-bearing identity proof (original & photocopy)
02) Candidates can bring any of the following Photo IDs in original at the time of Computer Based Examination and Other Tests:-
» Driving Licence
» Aadhar Card/ Print out of e-Aadhar
» Voter's ID Card
» Passport
» Income Tax Pan Card
» Employer ID Card issued by Central Govt./ State Govt./ PSUs
» Identity Card issued by University or College or School
03) About Biometrics: All participants will have to go through Biometric Mapping and also their identities will be verified during all stages of recruitment (i.e. Online Exam, Physical Exams, Typing Test on Computer & Computer Formatting Test) and during joining.
04) Aspirants must reach at the examination centre, 60 minutes before the starting time of an exam as specified in the Hall Ticket.
05) Aspirants reporting at the centre after reporting time for the test will not be allowed. So aspirants must get familiar with test centre location well in advance.
06) Contestants must not bring following items at the examination venue otherwise appropriate action will be taken against them:-
» Any type of Bags
» Valuable Items
» Firearms
» Sharp Weapons
» Mobile Phone
» Accessories
» Calculators
» Bluetooth
» Electronics Gadgets
07) The authority is not liable to pay TA or DA to any candidate for attending the Computer Based Test, PE&MT and other tests. Also, the authority not responsible for any injury occurred during the physical test.
08) It is to notify that mere receipt of Delhi Police Exam E-Admit Card or appearance in the examination does not guarantee selection in Head Constable post. Appointment of aspirants will be made strictly based on merit position, available vacancy and by following other criteria.
09) Candidates must refrain from creating any obstruction during the examination. If any candidate found obstructing the exam or creating disturbances at the examination venue, then his/ her candidature shall be summarily cancelled and debarred from future examinations of DP.
10) Candidates should scrupulously follow the instructions given by exam supervisor and the invigilator at all stages of examination. If any contestant violates the instructions, then their candidature may be cancelled by officials and further not allowed to attend any other DP exams.
11) The Admit Card must be kept safely till the final result. Roll Numbers cannot be assigned again if lost.
Delhi Police Head Constable (Min) Exam 2022 Pattern & Syllabus
Here take a look at the details of SSC DP HCM Exam Structure, Syllabus and Qualifying Marks from the following tables:-
♦ Computer Based Written Exam (Objective Type) Pattern ♦
SUBJECTS (Not in Sequence)
NO. OF QUES.
MAXI. MARKS
TIME DURATION
PART-A: Quantitative Aptitude (Basic Arithmetic Skill)/ मात्रात्मक अभिरुचि (बुनियादी अंकगणित कौशल)
20 ques.
20 marks
01 hr & 30 mins
PART-B: General Awareness/ सामान्य जागरूकता
20 ques.
20 marks
PART-C: General Intelligence/ सामान्य बुद्धिमत्ता
25 ques.
25 marks
PART-D: English Language (Basic Knowledge)/ अंग्रेजी भाषा (बुनियादी ज्ञान)
25 ques.
25 marks
PART-E: Computer Fundamentals, MS Word, MS Excel, Communication, Internet, WWW, Web Browsers, etc. (कंप्यूटर फंडामेंटल, एमएस वर्ड, एमएस एक्सेल, कम्युनिकेशन, इंटरनेट, डब्ल्यूडब्ल्यूडब्ल्यू, वेब ब्राउजर आदि)
10 ques.
10 marks
TOTAL ⇒
100 ques.
100 marks
90 minutes

The Online Examination will have objective type questions.

Except for Part-D, the question paper will be in HINDI and ENGLISH only.

The CBT will consist of 100 questions for 100 marks. Each question carries 01 mark.

There will be

No Negative Marks

for those questions answered wrong or left blank.

Candidates will get only 01 hour and 30 minutes of time duration to complete their answer paper.

The marks scored by applicants in Computer based Written Exam will be subjected to a

Normalization Process

called

Equi-Percentile Equating

.

To finalize the merit list, the percentile ranks so derived & equated will be used as input criteria.

All the details regarding exam scheme are available in official notification pdf so go through it and proceed your exam preparation for scoring good marks.

Scroll down to below table as we have shared

indicative syllabus for all subjects

that will be in the Computer Based Online Examination.
♦ Computer Based Examination Indicative Syllabus ♦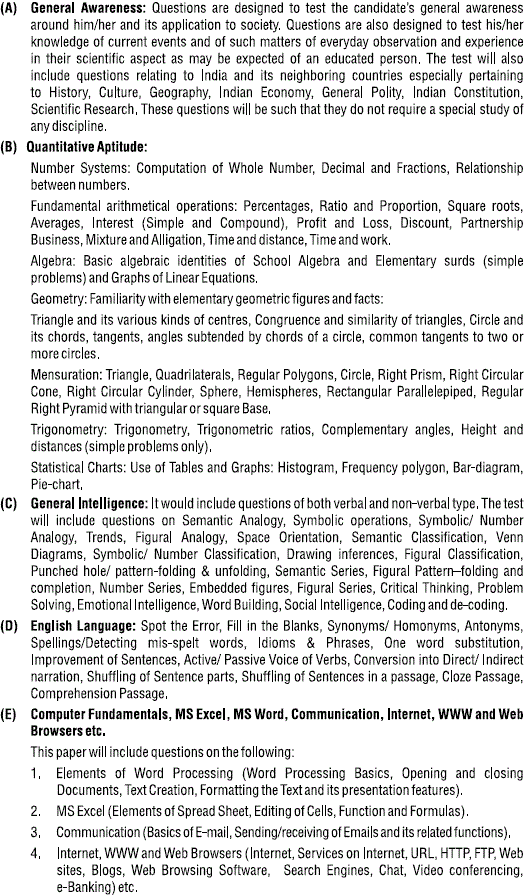 ♦ Mini. Qualifying Marks for Computer Based Exam ♦
CATEGORY NAMES
MINIMUM QUALIFYING MARKS
General (GEN) and Economically Weaker Section (EWS)
40% marks
Scheduled Castes (SC), Scheduled Tribes (ST) and Other Backward Classes (OBC)
35% marks
Ex-servicemen (Ex-S)
30% marks
Conclusion on SSC DP HCM Exam Admission Certificate 2022
Male & Female Aspirants of Delhi Police Head Constable (Ministerial) Exam 2022 who are searching for Call Letter related correct information hope they have got it from here and are satisfied with it. Whenever DP Head Constable Exam Call Letter released, here we will notify & upload a valid link to download Hall Ticket on this blog so aspirants can't face any problems. If any candidate has not received Delhi Police Hall Ticket for HC (Min) Exam or has any queries, then he/ she may write an Email or call on Helpline Number for a solution. Start your preparation now as you know everything about DP HC Min Exam Date and Hall Ticket.
Bookmark this article for Delhi Police Head Constable Ministerial Admit Card 2022 Live News & Updates from time to time. You guys can follow us @www.techufo.in to grab a further update on Answer Key, Cut off Marks, Results, Final Merit List/ Selection List, etc.
SSC Delhi Police HC (Min) Admit Card 2022 – FAQs
Some of the frequently asked questions – FAQs regarding SSC DP HCM Exam Hall Ticket are as listed under this section so let's check them out to clear your queries:-
When Delhi Police Head Constable (Min) Written Exam 2022 is to be conducted?
Staff Selection Commission will conduct DP HCM Computer Based Examination from October 10 to October 20, 2022 in various sessions all over India.
When & How will I get my Admit Card for DP HC Ministerial CBT Exam 2022?
Candidates will get their Delhi Police Head Constable Min Call Letter from the official website of the concerned SSC Regional Offices around 01 (one) week prior date of the examination.
What if I forget to carry my ID proof at the Delhi Police HCM examination centre?
Photo Identity proof and SSC DP Head Constable (Min.) Call Letter is mandatory, so candidates are not permitted to appear for the exam without such documents.
Will SSC DP HC Ministerial Hall Ticket be sent to me by post or email?
No, Delhi Police HCM Call Letter for Southern Region, Northern Region, Karnataka Kerala Region, Eastern Region, North Western Region, MP Region, Central Region, Western Region & North Eastern Region shall be downloadable only from the concerned SSC Regional online portal using Registration Number/ Roll Number and Date of Birth.
What is the date of DP Head Constable Physical Exam 2022?
The DP HCM physical test date is not announced yet. It will publish after the declaration of written exam result.
Is there any Helpdesk for Queries?
DP Recruitment Helpdesk for HC Ministerial Exam Hall Ticket as follows:-
» 011-27412715
» 011-27241205
» 011-27241206
(Note: Helpline Numbers will remain active on all working days between 9:30 AM to 6:00 PM expect Saturday, Sunday and National Holidays.)
!! Best Wishes By Tech UFO Team !!