Punjab Patwari Answer Key 2021, PSSSB Revenue Patwari Paper Solution/ Online Objections, SSSB Punjab Zilladar Clerk Answer Sheet PDF, sssb.punjab.gov.in Patwari Exam Provisional Final Key Link Available Here:
Hey, Friends! The Subordinate Selection Service Board Punjab has RELEASED PSSSB Answer Key for Patwari (Revenue), Zilladar & Irrigation Booking Clerk Exam held on 08-08-2021. All those aspirants who have attended Written Exam for Punjab Patwari, Zilladar & Clerk Posts can download PSSSB Paper Solution & OMR Sheet PDF from this web page. We have shared a direct link to download SSSB Punjab Patwari Answer Key 2021 & to File Objections at the bottom. Read on to find out everything about Punjab Revenue Patwari Provisional Answer Sheet, including how to challenge the key and more.
LATEST NEWS:
FINAL ANSWER KEY of SSSB Punjab Patwari Exam 2021 is Available Now for download from a direct link provided below
.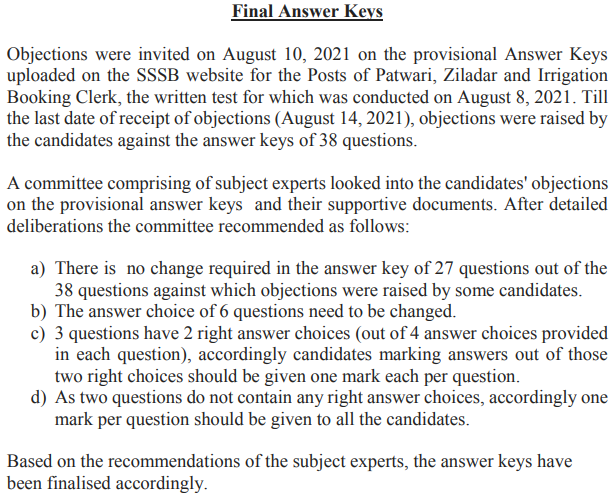 Punjab Patwari Answer Key 2021, Download PSSSB Revenue Patwari (8th Aug 2021) Exam Paper Solution @ sssb.punjab.gov.in
On 8th August 2021, the Punjab Subordinate Selection Service Board (PSSSB) conducted a Common Written Test for 1152 vacancies of Revenue Patwaris, Irrigation Booking Clerks and Zilladars. SSSB Punjab Patwari Recruitment Exam for total 120 marks had conducted in MCQ format using OMR sheets for answering the questions. Currently, a large number of applicants are waiting for the Official Answer Key of Punjab Patwari Written Exam after taking the test. Only those applicants who have appeared in PSSSB Revenue Patwari, Irrigation Booking Clerks & Zilladar Exam can access the provisional key to evaluate tentative results before the official declaration.

Aspirants looking for Punjab Patwari Exam 2021 Provisional Answer Key Set wise PDF can download it by clicking on a quick link attached below. In addition, below aspirants will find a login link from where they can raise an online objections/ grievance regarding PSSSB ਮਾਲ ਪਟਵਾਰੀ/ Clerk/ Zilladar Answer Sheet as per the instructions.
PSSSB Patwari Answer Key 2021 – Overview
| | |
| --- | --- |
| Exam Name: | Punjab Patwari (Revenue), Zilladar & Irrigation Booking Clerk Exam 2021 |
| Conducting Body: | Subordinate Selection Service Board, Punjab |
| Rectt. Advt. No.: | 01/2021 |
| No. of Vacancies: | 01,152 vacancies |
| Written Exam Date: | August 08, 2021 (Sunday) |
| Written Exam Timings: | 11:00 AM to 01:00 PM (Morning Session) |
| Provisional Key Answers Status: | RELEASED (August 09, 2021) |
| Dates to Submit Objections: | August 11 to August 14, 2021 (05:00 PM) |
| OMR Sheet Status: | RELEASED (August 14, 2021) |
| Final Answer Key Status: | RELEASED (August 20, 2021) |
| Ans Key PDF Download Link: | Available Below |
| Release Release Date: | August 20, 2021 |
| Official Website: | sssb.punjab.gov.in |
Punjab Revenue Patwari, Zilladar Answer Sheet 2021 – Details
SSSB Punjab releases the Patwari Exam Answer Key in 2 (two) phases, i.e. provisional & final. After the exam, the board will upload the set wise PSSSB Patwari & Zilladar Provisional Key by online mode at its official website. Thus, aspirants can check their answers to the questions marked in OMR Answer Sheet with the help of official solution key. Here contestants will also be allowed to submit objections if they find mistakes in the Punjab Revenue Patwari Paper Solution Sets until the due date. Also, the paper solution will help aspirants get a sense of whether they are qualified for the further process.
PSSSB Patwari Answer Sheet 2021 shall comprise correct answers of all 120 MCQs asked under General Knowledge/ Awareness, Mental Ability, Quantitative Ability, Languages (English & Punjabi), Information Technology, Agriculture, Punjab History & Culture, etc. The Board will provide a paper solution sheet in the form of sets, i.e. SET-A, SET-B, SET-C & SET-D. The key will be used for preparation of the final SSSB Punjab Patwari Result.
Objections regarding PSSSB Patwari Provisional Key 2021
The board provides an opportunity to challenge answers appearing in the provisional key of Revenue Patwari, Zilladar and Irrigation Booking Clerk exam. Punjab Patwari Question Paper alongwith Answer Key will be posted on the SSSB-Punjab's website, within one day after the examination, for calling objections, if any. Aspirants can file objections indicating the grievance via email in prescribed format alongwith necessary documentary proof (if any) and mandatory fee. PSSSB Patwari Exam Answer Key Objections will be referred to experts, & then the key will be finalized by the board.
Below are some important instructions regarding inviting online objections:-
The office of SSSB-Punjab will invite objections (if any) about the Answer Key of Patwari Written Exam Dated 08-08-2021 within four days, i.e. from 11-08-2021 to 14-08-2021 till 05 pm.
After the last date, no objections will be accepted against the provisional key.
The grievances should be sent only via email at ehelpdesk8@gmail.com.
Objections received only through online mode at email will be considered for verification.
Any objections raised by the candidate will be considered by the duly constituted expert committee of the Examining Authority.
Candidates must abide by the expert committee's decision, and no further objections could be raised at any level.
How to download SSSB Punjab Patwari Final Answer Key 2021 PDF?
Here we know, many candidates don't know the steps to download and view SSSB-Punjab Revenue Patwari, Irrigation Booking Clerk & Zilladar Answer Sheet from the online portal. Therefore, below we have listed the step-wise process to get PSSSB 8th Aug 2021 Exam Question Paper Solution, so follow it:-
1st Step – Open the Official Website of Punjab Subordinate Service Selection Board – https://sssb.punjab.gov.in/.
2nd Step – On a home page, navigate to the "Current News" section.
3rd Step – Click on a link named "Download Final Answer Key for Written Exam of PSSSB Patwari (Revenue), Irrigation Booking Clerk & Zilladar (Advt No. 01/2021)".
4th Step – Insert your Application Number, Date of Birth & Mobile Number on a login page.
5th Step – Finally, the provisional answer sheet (Set A, Set B, SET C & Set D) will display on the screen.
6th Step – Take a printout of the paper solution sheet PDF and cross-check the answers.
Important Links for PSSSB Patwari 2021 Key
Punjab Patwari Final Answer Key 2021
The SSSB Punjab will publish the Final Key of Patwari Revenue, Irrigation Booking Clerk & Zilladar Examination after aspirants submit their objections. Based on the necessary correction done in the Provisional Keys, PSSSB Patwari Final Answer Key will be prepared and then released online by officials. The Final Answer Sheet will be uploaded Set wise (A, B, C & D) in PDF format and downloaded without using login credentials. The board will not accept any grievance after the publication of Final Answer Key.
We have covered all the necessary information about Punjab Patwari Written Exam Answer Sheet, Filing Online Objections and much more. Aspirants can share their queries (if any) with us in a comment box placed below. We would be happy to help. For all the latest updates on PSSSB Patwari, Zilladar Solution Key & Result, stay tuned to www.techufo.in.
FAQs on SSSB Punjab Patwari Answer Sheet 2021
Go through the following frequently asked questions on Paper Solution of PSSSB Exam conducted on August 08, 2021:-
When will PSSSB release Patwari Provisional Answer Key 2021?
The Provisional Key (Set – A, B, C & D) PDF has released on 9th of August 2021 at around 07:00 PM.
Where can I find Punjab Patwari Answer Key 2021 Download Link?
Candidates will get a valid link for downloading the answer sheet of Patwaris (Revenue), Zilladar & Irrigation Booking Clerk on the homepage of PSSSB official website at sssb.punjab.gov.in and our portal – https://techufo.in.
Can candidates raise objections to the Official Answer Sheet of Punjab Patwari 2021?
Yes, aspirants can raise objections/ grievances pertaining to the provisional key along with necessary documentary proof.
How do I File Objections to the PSSSB Patwari 2021 Answer Key?
Step-I: Visit the official website of SSSB-Punjab.
Step-II: Find the 'Objection Link' on the homepage.
Step-III: Download the 'Grievance Form'.
Step-IV: Fill the Grievance Form clearly indicating the objection regarding provisional key.
Step-V: Attach necessary documentary proof in support of the raised claim & Demand Draft of a mandatory fee.
Step-VI: Send scanned copies of the Grievance Form along with necessary documentary proof and Demand Draft by email.
Step-VII: Also, send original copies of documents & demand draft by speed post to the prescribed address.
What is the Processing Fee for filing Punjab Revenue Patwari Solution Key Objection?
Aspirants need to pay a processing fee of Rs. 500 per objection. The fees must be paid in the form of a Demand Draft.
We Wish Every Candidate A Good Luck…!!