SBI Apprentice Admit Card 2021, State Bank Of India Apprentice Exam Date, SBI Apprentices 2021-22 Hall Ticket, sbi.co.in Apprentice Call Letter Download Link Available Here:
State Bank of India has released Apprentice Online Exam Call Letter on its official website and will be downloaded upto 20th September 2021. Aspirants who have applied for attending the exam can download their hall ticket from this page. Here we have given a direct link for downloading SBI Apprentice Admit Card 2021 on this page at the bottom. Our advice to all applicants is to download your admit card much before SBI Apprentice Exam Date (20th September 2021) for avoiding the server issue on last day at the website. Take a quick look at this blog for SBI Apprentice 2021-22 Call Letter & Acquaint yourself Booklet related complete information.
LATEST UPDATE:
SBI Apprentice Online Exam 2021

Call Letter/ Admit Card is Now Available for download

from a login link attached below
. The online examination will be held on 20-09-2021.
SBI Apprentice Admit Card 2021 | State Bank of India Apprentice Exam Date, Call Letter @ www.sbi.co.in
Hello, Aspirants!! State Bank of India has scheduled to conduct Online Written Examination in September 2021 for engagement of Apprentices under the Apprentices Act, 1961. The exam is conducting across the country for filling up of total 6100 vacancies. The written test will have questions on General/ Financial Awareness, General English, Quantitative Aptitude and Reasoning Ability & Computer Aptitude. The total marks of the exam are 100. Candidates will get 1 hour to complete the test. The authority will intimate about releasing date of SBI Admit Card for Apprentice Exam through SMS or Email. Candidates are allowed to enter the test centre only if they bring State Bank of India Apprentice Call Letter & other necessary documents.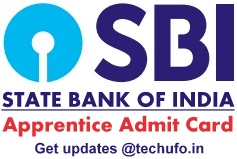 Applicants can download SBI Apprentice Exam Call Letter by providing their Registration Number & Password/ DOB from the Bank's website link arranged below. Before proceeding further, go through the important dates about SBI Apprentices 2021-2022 mentioned in the following table.
SBI Apprentice Call Letter 2021 – Overview
♦ भारतीय स्टेट बैंक अपरेंटिस परीक्षा विवरण ♦
Organization Name:
STATE BANK OF INDIA
Rectt. Advt. No.:
CRPD/APPR/2021-22/10
Exam Name:
Apprentice 2021-22
No. of Vacancies:
6100+ vacancies
Registration Dates:
06th July to 26th July 2021
Online Written Exam Date:
20th September 2021 (Monday)
Call Letter Release Date:
06th September to 20th September 2021
Admit Card Download Link:
Available Below
Selection Process:
Written Test and Test of Local Language
Official Website:
www.sbi.co.in
sbi.co.in Apprentice 2021 Call Letter – Details
Candidates must note that Admit Card for State Bank of India Apprentice will be issued online by uploading to the designated web portal and not by post in the form of hard copy. Along with the hall ticket, aspirants can also download "Acquaint yourself" booklet to know detailed information about the online examination. Candidates must study booklet carefully as it will help in preparing for the test. After downloading SBI Apprentice Exam Hall Ticket, kindly note your Roll Number, Date, Time and Venue for Examination mentioned in it. Also, candidates need to affix their recent passport size photograph in the space provided in the call letter.
Read all instruction regarding SBI Apprentice Recruitment Online Exam printed on the Admit Card and also abide the same. Candidates have to appear for the test at their own cost as no travelling allowance or other expenses will be paid later. Aspirants coming late will not be allowed inside the exam centre.
Steps to download SBI Apprentice Written Exam Admit Card 2021:-
Below are the steps to get SBI Apprentice Exam 2021 Admit Card/ Hall Ticket online from a web portal. Thus, candidates are requested to check the step-wise procedure, follow it and download the hall ticket as per schedule.
STEP-I: Open State Bank of India's Official Website – https://bank.sbi/careers or https://www.sbi.co.in/careers.
STEP-II: Click on a "Current Openings" link available on a homepage.
STEP-III: Now, open a link titled as "Call Letter for SBI Apprentice Online Written Examination 2021-22".
STEP-IV: In a login page, insert your Registration Number & Password/ Date of Birth and then press the "Submit" button.
STEP-V: Your admit card will appear on the screen showcasing complete details about you and your examination.
STEP-VI: Download the hall ticket and take a print for participating in the exam.
Important Links for SBI Apprentice 2021-22 Call Letter
Items To Bring With SBI Apprentice Hall Ticket 2021
Aspirants must reach the exam centre fully prepared along with all those documents asked by the authority. Following is the complete list of items needed along with Call Letter for appearing in SBI Apprentice exam for the year 2021:-
One Photo Identity (ID) Proof – Photo Copy & Original Copy (Note: Name on the ID and Call Letter should be exactly the same.)

Aadhar Card
E-Aadhar Card with a Photograph
Passport
PAN Card
Voter's Card with Photograph
Permanent Driving License
Bank Passbook with duly attested Photograph
Identity Card issued by School or College
ID Card issued by Gazetted Officer in the official letterhead in original as well as a self-attested Photocopy
Photo Identity Proof issued by a People's Representative along with a Photograph (on official letterhead)

Passport Size Photograph (Two Copies)
Stationery such as pen/ pencils, ballpoint, eraser, glue, ink stamp pad, etc.
Mask (Wearing a Mask is Mandatory), Gloves & Hand Sanitizer (50 ml)
Transparent Water Bottle
Scribe Form duly filled & signed with Photograph affixed (In case of Scribe Candidates)
Contestants should hand over their Admit Card and Photocopy of Photo ID Proof to the invigilator in the examination hall. In case the identity of any applicant will be in doubt after comparing Call Letter & ID proof, then he/ she shall not get permission to attend the test.
SBI Apprentice Exam 2021-22 Pattern
♦ Online Written Test Structure ♦
Sr. No.
Name of Tests
Number of Questions
Maximum Marks
Time Duration
1.
General (सामान्य)/ Financial Awareness (वित्तीय जागरूकता)
25 ques.
25 marks
15 minutes
2.
General English – सामान्य अंग्रेजी
25 ques.
25 marks
15 minutes
3.
Quantitative Aptitude – परिमाणात्मक अभिवृत्ति
25 ques.
25 marks
15 minutes
4.
Reasoning Ability (तर्कशक्ति क्षमता) & Computer Aptitude (कंप्यूटर अभिवृत्ति)
25 ques.
25 marks
15 minutes
TOTAL Questions, Marks & Duration:
100 ques.
100 marks
1 hour

The online written test consists of Multiple Choice Questions (MCQs) of Objective Type.
There are 05 (five) alternative answers to every question of all the tests.
Negative marks (1/4th of 1 mark) for each wrong answer shall be deducted as per instructions.
The questions will be bilingual, i.e. English & Hindi, except for General English Test.
Each of the tests will have separate timing.
Only one question will be displayed at a time on the screen.
No minimum qualifying marks for individual subject/ test.
There will be minimum qualifying marks on aggregate which will be decided later by the Bank.
5% relaxation available for SC/ ST/ OBC/ PWD candidates on aggregate in minimum qualifying marks.
Refer to the Information Handout issued along with Hall Ticket for complete details of the Online Test Pattern as well as Exam Related Instructions.
CONCLUSION: So, we have covered a lot of info related to SBI Apprentice Admit Card 2021, Exam Date, Exam Pattern and many other General Instructions here in this article. Hope candidates have found this blog helpful. Also, visit our website (www.techufo.in) regularly to check latest news update on स्टेट बैंक ऑफ इंडिया अप्रेंटिस परीक्षा कॉल लेटर / एडमिट कार्ड. Candidates can share their queries with us through a comment segment placed below.
FAQs About State Bank Of India Apprentice Admit Card 2021
Before logging out, check out the frequently asked questions for State Bank of India Apprentices Exam 2021-22; which we have listed below:-
How to download SBI Call Letter for Apprentice Exam 2021?
Eligible applicants will have to download their Admit Card along with 'Acquaint Yourself Booklet' from a valid link uploaded at the official website – https://nsdcindia.org/apprenticeship or https://apprenticeshipindia.org or http://bfsissc.com or https://bank.sbi/careers or https://www.sbi.co.in/careers.
When will State Bank of India issue Apprentice Admit Card 2021?
The Admit Card download process has started on 6th September and will be continued till 20th September 2021.
When will SBI conduct Online Exam for Apprentices 2021?
The online examination is scheduled to be held on 20th of September 2021 (Monday), as per the official notification.
Is login details are necessary to download Call Letter?
Yes. Without login credentials (Registration Number & Password), Admit Card will not be download by candidates.
What to do if I have Forgotten my Login Password?
You can retrieve the Password by submitting your Registration Number and Mobile Number OR Email ID entered by you at the time of registration.
SBI Apprentice 2021 Acquaint Yourself Booklet PDF will be Released when?
A PDF of the 'Acquaint Yourself' Booklet will be available for download along with Call Letter.
What should I do if the login page takes a lot of time in opening?
It happens due to your Internet Speed and a Large Number of Applicants trying to download their Call Letter at the same time. So, retry after a gap of 05 minutes or during off-peak hours during the night.
Will I get SBI Apprentice Admit Card Hard Copy by Post?
No. The hard copy of call letter for online written examination & acquaint yourself booklet will be issued by online mode through the official website only.
What to Bring Alongside Admit Card for SBI Apprentice Exam?
Candidates will need to bring any relevant document in a claim of their Photo Identification (Voter Card/ Aadhar Card/ PAN Card/ Passport/ Driving License), 02 Photos of Passport Size, Pencils, Ballpoint, Erasers and Ink Stamp Pad.
Can I Change my Examination Centre given in Call Letter?
No. It is clearly mentioned in the notification that request for change of centre for examination shall not be entertained for any reason. But, the authority reserves the right to allot the aspirant to any of the Centre other than the one he/ she has chosen.
How to Contact in case of Query regarding receipt of Call Letter?
Aspirants can ask their queries or questions at telephone no. 022 – 22820427 (between 11 AM and 05 PM on working days) or lodge a query on http://cgrs.ibps.in.
What Not to Bring inside the Examination Centre?
Candidates must not bring their mobile phones, pagers, any other communication devices, calculator (separate or with a watch), books, notes, slide rulers, etc. inside the premises of the examination.
Do candidates Need to Bring Rough Sheet for Online Test?
No. Rough sheet(s) will be provided at each candidate desk in the examination hall.
"Wishing You ALL THE BEST, Guys…!!"