SBI Clerk Mains Result 2021, sbi.co.in Junior Associate Mains Result, SBI Clerk Mains Cut Off Marks, SBI JA Clerk Final Merit List, State Bank Of India JA Main Exam 2021 Result Score Card Link Available here:
We have all the latest updates regarding SBI Clerk Mains Result 2021 of examination held on 1st & 17th October 2021. State Bank Of Indiaa has RELEASED results of Junior Associates (Customer Support & Sales) Online Main Exam 2021. As we know, all those candidates who have attended online examination will be waiting for the latest news on SBI JA Mains Result. Check out all useful details about State Bank of India JA Clerical Main Exam Marks and Results by going through this article. Applicants will find out information about SBI Clerk 2021 Mains Cutoff Marks from this blog. At the bottom of this web page, we have also attached a direct link so that aspirants can easily download SBI Clerk Final Merit List PDF from here.
«

IMPORTANT NOTICE

 »
Latest Update:
SBI Clerk 2021

Main Exam Result DECLARED

. Scroll down to download & check your Roll Number from the Final Result of Junior Associates and Main Exam Marks through a direct link provided below to this page.
SBI Clerk Mains Result 2021 | State Bank of India Junior Associate (JA) Main Exam Results Cutoff Marks Merit List @www.sbi.co.in
♦ SBI JA MAINS RESULT OVERVIEW ♦
Organizer Name:
STATE BANK OF INDIA (स्टेट बैंक ऑफ़ इंडिया)
Rectt. Advt No.:
CRPD/CR/2021-22/09
Exam Name:
SBI Clerk Main Examination 2021
Post Name:
Junior Associate (Customer Support & Sales)
Total No. of Vacancies:
05,121 vacancies
Job Placement:
Anywhere in India
Kind of Page Info.:
Result, Cutoff Mark, Scorecard, Merit List, etc.
Mains Exam Dates:
01-10-2021 (Friday) & 17-10-2021 (Sunday)
Main Exam Result Release Date:
RELEASED (17-11-2021)
Score Card Release Date:
RELEASED (17-11-2021)
Result/ Merit List & Marks Link:
Attached Below
Cut off Marks (Category wise):
Available Below
Joining Date:
Update Soon
Official Website:
www.sbi.co.in
sbi.co.in Clerk 2021 2022 Mains Result – Summary
On 1st & 17th October 2021, State Bank of India Main Examination successfully held for 5121 Junior Associate posts in Clerical Cadre. More than thousand candidates who had cleared prelims have participated in the main examination conducted in Computer based mode. The preliminary exam has conducted on 10th, 11th, 12th, 13th July & 29th August 2021. The board has announced SBI Clerk Prelims Result on 21st September 2021. Those applicants whose roll number listed in the pre-merit list have attended online main examination with enthusiasm to get their desired vacancy. All candidates are now eagerly waiting for SBI Clerk 2021 Main Result to release online at the official website.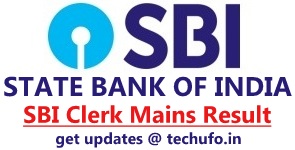 Candidates can check SBI JA Clerk Result of Main Examination 2021 just by using an official website (https://www.sbi.co.in/careers) link uploaded below.
SBI Clerk Mains Merit List 2021
As per the latest report, State Bank Of India Clerk Main Result 2021/ Merit List is going to be revealed within November/ December month. Candidates will have to login to the official website for their results and marks. The bank will publish Names and Roll Numbers of the qualified candidates in SBI Junior Associates Clerk Final Merit List. Those who qualified in the online test will be placed according to their marks in descending order in respective categories. All contestants must note that their marks obtained in Mains Examination will be considered for the preparation of final State Bank of India JA Merit List cum Result. Only qualified contestants will get their name and/or roll number in the merit list.
SBI JA results of those aspirants who have been shortlisted for Test of specified opted local language will be published on State Bank Of India's official website link given below. The recruiting authority will make a provisional selection based on the candidate's performance in the main exam. SBI Junior Associates Result 2021 of the main examination will be made available here on this page whenever officially released. It is to notify that the final list of selected candidates will be published in Employment News.
How to check online SBI Junior Associate (Clerk) Main Exam 2021 Results?
Hello! We have prescribed some simple steps so candidates can download SBI JA Clerical Cadre Main Exam 2021 Results/ Marks by following it from the below passage. You can click the quick link that we have provided below to generate your marks whenever revealed at the concerned site.
1st Step – Visit the official website of State Bank Of India or open a link provided below.
2nd Step – Navigate to the "Careers" section that was placed on the right side of a homepage.
3rd Step – On the next page, search a link labelled as "Results of SBI JA (Clerical Cadre) Main Examination 2021".
4th Step – Open a result link and then insert your details like Registration Number, Roll Number & Date of Birth (DOB – dd/mm/yyyy) in a login page.
5th Step – Verify filled up data and then finally press on the "submit' option.
6th Step – Within a few minutes, a pdf file of the merit list will appear on the screen.
7th Step – The name, roll numbers, and marks of selected candidates will contain in this merit list. If your name is there in a final merit list, then save it to your device.
8th Step – Also, take more than one hard copy of your result for interview purposes.
Official Links for SBI Clerk 2021-22 Mains Result
| | |
| --- | --- |
| SBI Clerk 2021 Mains Exam Result/ Final Merit List: | DOWNLOAD PDF |
| SBI Clerk Main Exam 2021 Marks: | CHECK HERE (Link will take time to open due to sudden spikes in site traffic) |
| State Bank Of India Official Website: | VISIT HERE – sbi.co.in |
State Bank of India JA Mains Result 2021 – Details
We advise personally to every candidate to check out this online web page daily for quick updates on result date of SBI Clerk 2021 Main Exam. The authority has not mentioned an exact date about the result, but they will release it in the next few days. So guys let's hope for best!! Right now, a direct link to download and check State Bank of India JA Results is available here on this web page right above this passage. According to the recent report, the officials have said that there's no confirmation when the results will be published at the primary site.
As we all know, contestants are desperately looking forward to SBI JA Mains Results 2021 along with Cutoff marks since their exam completed. As there is no official update from the authority, so all the candidates are requested to stay connected with us for the latest news in upcoming days. Candidates should not lose their confidence and temper due to delay in the results/ marks. The mains result of State Bank of India Clerk announced soon in a short time. The merit list of the shortlisted contestants will upload by the authority at their official website only.
SBI Clerk Mains Cutoff 2021
♦ State Wise & Category Wise Cut Off Marks ♦
Name of the States
Previous Cutoffs
Expected Cutoffs
2020
2019
2018
GEN
OBC
EWS
SC
ST
Gujarat
82.75
91.25
85.00
90-92
85-86
86-88
75-78
65-68
West Bengal
86.75
97.25
95.30
95-97
88-90
89-92
75-80
70-75
Rajasthan
90.25
97.00
96.75
94-98
90-94
92-94
80-85
70-80
Jammu & Kashmir
N/A
N/A
N/A
—
—
—
—
—
Himachal Pradesh
87.25
101.25
98.25
95-100
90-95
94-96
78-82
70-75
Madhya Pradesh
89.25
94.75
92.60
94-98
88-92
90-94
80-87
75-79
Andhra Pradesh
88.75
99.75
N/A
95-100
88-90
90-92
85-88
80-84
Tamil Nadu
92.75
98.00
93.75
93-98
85-90
88-92
80-84
76-80
Karnataka
80.50
85.75
83.90
85-90
80-82
80-85
75-80
70-75
Uttar Pradesh
90.25
97.50
96.00
95-99
89-92
90-94
78-84
72-76
Delhi
98.75
99.75
104.80
100-105
90-95
95-100
85-90
80-85
Jharkhand
N/A
97.50
N/A
96-100
89-93
89-95
82-86
77-82
Haryana
N/A
103.25
99.00
99-104
90-94
94-98
82-85
75-79
Odisha
87.75
94.75
88.80
89-95
84-86
85-89
80-84
76-80
Assam
N/A
85.00
N/A
85-90
79-83
80-85
75-79
70-74
Mizoram
N/A
N/A
N/A
—
—
—
—
—
A&N Islands
N/A
N/A
N/A
—
—
—
—
—
Punjab
96.25
102.75
100.65
100-105
90-94
96-99
80-86
76-79
Chhattisgarh
96.75
87.75
91.50
87-92
80-85
84-86
75-80
71-74
Telangana
86.75
N/A
N/A
96-101
90-94
91-95
82-86
78-82
Kerala
N/A
96.25
N/A
95-99
89-94
90-95
79-85
75-79
Uttarakhand
91.00
96.50
N/A
95-97
89-92
92-94
83-85
79-82
Goa
N/A
N/A
N/A
—
—
—
—
—
Bihar
N/A
98.00
96.00
96-99
90-95
90-95
85-89
79-84
Pundicherry
N/A
N/A
N/A
—
—
—
—
—
Maharashtra
84.00
89.75
85.65
85-91
79-83
80-85
74-78
69-73
We have mentioned state wise SBI Jr Associate Previous Exams (2020, 2019, 2018) Cut Marks and expected Cutoff List for every category candidates in the above table. The cut off marks will be different for each state which every category candidate must remember.
SBI JA Mains Cut off Marks cum Minimum qualifying marks on aggregate will be decided by the authority after an examination gets over. However, the General Category contestants can expect their cutoff marks in between 88-95 marks while Reserved Categories can expect it in between 65-85 marks. The bank will decide cut off based on the performance of all applicants taken together in each subject minimum required level. The Final Cut off score will be updated after the release of result at an online web portal.
All participants have to score minimum percentage marks on aggregate. For reserved categories like SC/ ST/ OBC/ PWD/ XS, 5% relaxation will be provided by the bank. However, the perfect SBI Cutoffs for Clerk Main Exam will release along with a final result. The Cut Off Score considered as passing or clearing level of the examination. Aspirants can share the SBI Clerk Mains Cutoff Score with us as per their prediction/ estimation through below comment segment and also discuss it with other contestants.
♦ SBI Clerk Previous Year Cut Off Test wise & Category wise (2016) ♦
Sr. No.
Test Names
Total Marks
Minimum Qualifying Marks
GEN
OBC/ SC/ ST
OH/ VI/ HI/ XS/ DXS
01.
General/ Financial Awareness
50
13.50
09.50
03.25
02.
General English
40
14.25
10.25
04.50
03.
Quantitative Aptitude
50
14.50
11.25
06.50
04.
Reasoning Ability & Computer Aptitude
60
24.00
19.00
11.25
The above mentioned SBI cut off test wise is of previous year Clerk exam (2016). Now here we have provided last year cut off marks for the candidates so that they can predict current year cutoffs accordingly. Aspirants may visit the official website for further more details regarding previous & current cutoff list in brief. Scroll down and have a look at the exam marks related all details that will help for your information.
SBI JA Clerk Main Exam 2021 Marks
Here the State Bank of India JA Marks obtained by the aspirants from Main Examination will be published at the official website just after few days of result declaration. The bank will release results very soon, so candidates are requested to keep patience and wait for the final announcement. The marks list of every contestant will be available for download by inserting Roll Number & Date of Birth OR Registration Number & DOB only. We will update here whenever we get some solid information about result or marks. Our team has updated the result of every contestant here in this article.
After the completion of भारतीय स्टेट बैंक क्लर्क ऑनलाइन मुख्य लिखित परीक्षा, all participants are waiting very keenly for the release of their results as well as marks sheet. Contenders may check their scorecard on an official website after the declaration. You can share your State Bank Of India JA Exam Marks and your status in Final Merit List with all other participants through the comment box provided below.
State Bank of India Junior Associate Final Result 2021
State Bank of India Officials will prepare the list of Roll Numbers of Provisionally Selected Candidates for Appointment. The State Bank Authority wants quality resources, so they have insisted for Proficiency Test in Local Language when the Interview session not considered by the Central Government of India.
About Final Selection: It will be subject to verification of eligibility for the post & information furnished in the online application as well as qualifying in the test of specified opted local language, where applicable. The final appointment of selected aspirants is subject to his/ her being declared medically fit as per the requirement and satisfactory completion of KYE formalities. It will also be subject to the service and conduct rules of the Bank.
SBI Clerk 2021 2022 Waiting List
The Bank officials will maintain wait list up to 50% of vacancies (State – Category wise) after releasing the final result. The waiting list will be valid for 01 (one) year only from the final result release date. Aspirants will be released from the wait-list quarterly against non-joining & resignation out of the current batch only, subject to the aspirants securing minimum qualifying marks as may be stipulated by the authority for selection. The Roll Numbers of Candidates Selected Provisionally from Waiting List will be available at the Bank's website (https://bank.sbi/careers or https://www.sbi.co.in/careers).
About SBI Clerk 2021-22 Notification
Annually, SBI releases fresh employment news for various posts like Specialist Cadre Officer (SCO), Probationary Officer (PO), Clerical Cadre & Other vacancies. Recently, the SBI Clerical Cadre Recruitment Advt No. CRPD/ CR/ 2021-22/ 09 has been updated in April 2021. This notification was released for a total of 5121 vacancies of Junior Associates in the Clerical Cadre. A massive number of interested contestants have applied for this recruitment process within the due date.
Hello, Candidates!! We have heard from the latest buzz that results would be disclosed in November/ December at the official web portal. Contestants can check their SBI Clerk Mains Result 2021 through direct link attached above. But we don't know that it is perfect news or just a rumour. We are trying our best to provide correct details about the results. All the relevant updates will be provided on this website. Hope you will get the highest marks to clear this examination.
The readers can simply leave their comment about this article in a feedback box given below. Our team member will answer you as soon as they can by finding out the right solution. We will try to update every single detail here in this article as soon as published at the concerned website. Just press the Red Bell Icon to Subscribe this web portal. 
FAQs About State Bank of India Clerk Results 2021
When does SBI Clerk 2021 Mains Result will declare?
State Bank of India has declared Jr. Associate Mains/ Final Result on 17th of November 2021.
How can I check my SBI Clerk Main Exam Marks 2021?
Candidates can check out their Scorecard of State Bank of India JA Main Exam and Merit List by visiting the official website (https://www.sbi.co.in/web/careers/current-openings) URL link available under this blog.
Where can I download SBI Junior Associate 2021-22 Final Result cum Merit List PDF?
You can download the JA Final Result PDF from the Bank's website https://bank.sbi/careers and a direct link provided on this web page.
Which are the Details Available in SBI Clerk Final Result 2021?
The Final Result will consist of only the Roll Number of Provisionally Selected Candidates for Appointment.
What is the next step after SBI Junior Associates Final Results release?
All the provisionally selected aspirants will be advised by way of SMS separately by the State Bank of India Local Head Office of your State.
What will be the SBI Clerk 2021 Joining Date?
The joining date of provisionally selected candidates is expected to be by 1st week of January 2022.
Is there any Helpdesk for queries about the result?
The Official Email ID for Query is crpd@sbi.co.in so that candidates can Mail their queries to the authority for a solution. Also, candidates can use the Help Desk Number for Query or any question.
What are the criteria for final selection to Junior Associate posts?
Selection Procedure Adopted for Recruitment of Junior Associates as follows:-
a) Preliminary Examination (Phase-I) = 100 marks (Qualifying)
b) Main Examination (Phase-II) = 200 marks
c) Specified opted Local Language Test = Qualifying
d) Document Verification = Qualifying
Our Tech UFO team wishes ALL THE BEST to contenders who have participated in online test with full dedication. Bookmark our official website just by using "Ctrl+D" key for all the further updates on SBI Clerk (Junior Associates) Main Results, Marks, Cutoff, Final Merit List, etc. Follow this portal for regular news on railway jobs, SSC jobs, govt job updates, 10th pass sarkari naukri, latest govt recruitment, etc. A Subscribe to our website and receive time to time latest updates at your working device. Guys THANK YOU for going through this blog thoroughly.