SBI PO Mains Result 2022, sbi.co.in Probationary Officer Main Exam Result, State Bank Of India PO Mains Cutoff Marks, SBI PO 2021-22 Mains Merit List PDF Download Link Here:
SBI PO Main Exam 2022 Result Update: State Bank of India has DECLARED the mains result for probationary officers on its official website. We notify aspirants that SBI PO Mains Result 2022 has released on 25th Jan-2022. After a declaration of result, aspirants can download & check SBI Probationary Officer Main Exam Merit List from this web page. In this blog, aspirants will get State Bank Of India PO 2021-22 Mains Result link uploaded at the bottom. As we know, applicants are waiting for SBI Probationary Officer Recruitment Mains Result to check whether they qualified for GD/ Interview or not. In addition to results, aspirants can check SBI PO Mains Cut Off 2022 from the table placed below.
LATEST NEWS:
SBI PO Main Exam Result 2022 Announced
.
Download the Roll Number wise List of Candidates Shortlisted for Phase – III (Interview)

from a direct link shared below. Stay connected for updates
.
SBI PO Mains Result 2022 | State Bank of India Probationary Officer Main Exam Results Cutoff Marks, Merit List @www.sbi.co.in
♦ Result Overview ♦

Name of the Organizer:
STATE BANK OF INDIA
Advt Number:
CRPD/PO/ 2021-22/ 18
Exam Name:
SBI PO Online Main Examination 2021-22
Name of the Post:
Probationary Officers (POs)
Total Vacancies:
2056 vacancies
Mains Examination Date:
02-01-2022 (Sunday)
Exam Level:
Difficult
Mains Result Release Date:
25-01-2022 (Tuesday)
Group Exercises & Interview Dates:

In 2nd or 3rd week of February 2022
Final Result Date/ Status:
In February or March 2022
Result Download Link:
Available below
Cutoff Marks List:
Check below table
Official Website:
www.sbi.co.in
SBI Probationary Officer Mains Result 2022 – Summary
State Bank Of India has released a notification for Recruitment of Probationary Officers to fill up total 2056 posts. The authority has conducted the prelims in November 2021 Last Week & then published SBI PO Preliminary Exam Results & Marks on 14th December 2021. After releasing the result of prelims, the officials have organized SBI PO Main Examination on 2nd January 2022 for shortlisted applicants. Around 40,000+ candidates have given State Bank of India Mains Exam for Probationary Officer Posts and now looking for their results. Objective type questions for 200 marks and Descriptive test of 50 marks held in the Main examination. Based on aggregate marks scored in SBI PO Main Exam (Phase-II), Category wise Merit list drawn by the department.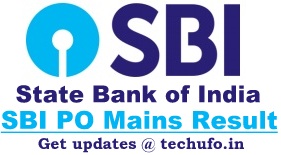 Now, shortlisted candidates in SBI Probationary Officer Mains exam will get a chance to attend Interview Or Interview & Group Exercises (Phase-III). Candidates can download SBI PO Main Exam Results/ Merit List PDF directly from a quick link attached at the end of this web page.
Steps to check State Bank of India PO Main Exam Result 2022:-
Have you attended State Bank of India Probationary Officers Main Exam on 02-01-2022?? Do you know how to download and check your merit list & marks list from the online portal? If you don't know, then follow the instructions given point by point in the below section. Here are the simple steps to be followed by the candidates to access their SBI Main Exam Result of Probationary Officer posts this year.
Step 1: Visit the State Bank Of India's official website – https://bank.sbi/careers or https://www.sbi.co.in/careers.
Step 2: Click on the "Careers" link available on a homepage.
Step 3: In a career section, find out a link to check Result of SBI Probationary Officer Main Examination, 2021-22 and then click on it.
Step 4: If required, then insert your Registration Number, Roll Number, Password & Date Of Birth – DOB (dd-mm-yyyy) for downloading the scorecard and merit list.
Step 5: Re-check the filled details after filling up and then press the "Login" button.
Step 6: Finally, a PDF file of Merit List will appear containing Names & Roll Numbers of Qualified Candidates for GD/ Interview.
Step 7: Find out your Roll Number/ Name from the selection list.
Step 8: Download the result PDF page for further usage.
sbi.co.in PO Main Exam 2022 Result link
Hey, Friends! Are you searching for SBI PO Mains 2021-22 Result Download link from this page? Ok don't worry as here we have shared below a direct link to the result so that you can beat traffic on the website & check your marks directly from here.
SBI PO Mains Merit List 2022
Finally, Good News! SBI PO Main Exam Merit List will be available for download in the third or fourth week of Jan-22. The phase-II results will declare consisting of a list of roll numbers of qualified contestants. Applied candidates need to find out their Roll Number is there on the merit list. If your Roll Number is available in SBI Probationary Officer Mains Merit List, then you have been selected for the Interview & Group Exercises. Shortlisted candidates can download SBI PO Interview Call Letter from first or second week of February 2022 onwards by visiting the official website. The officials have decided to start conducting Group Exercises & Interview from February 2022.
The department has prepared category wise State Bank of India PO Phase-II Exam Merit List on the basis of the aggregate marks as there is no sectional cut-off. Aspirants numbering up to 03 times (approx.) of the category wise vacancies has shortlisted for Phase-III from the top of category wise merit list subject to a candidate scoring the minimum aggregate qualifying score. The Final Merit List will be prepared based on marks obtained in Main Exam (both in the Objective Test & Descriptive Test) and GD/ Interview.
SBI PO 2021 2022 Mains Cut off Marks
| | |
| --- | --- |
| Categories | Expected Cutoffs |
| General | 100-110 |
| EWS | 100-105 |
| OBC | 95-100 |
| SC | 80-86 |
| ST | 75-80 |
| LD | 85-90 |
| VI | 98-102 |
| HI | 73-78 |
| D & E | 72-77 |
The official SBI Probationary Officer Cutoff Marks for Mains Examination to be decided by the Bank and publish along with results at the official website. The main examination cut off score will be different from the prelims cutoffs. As the cutoff scores will be different for all categories, aspirants need to check cutoffs as per their community from above table. Each contestant must secure passing marks if they want a call for interviews. All those who score above cutoff marks will find out their place in the merit list of qualified candidates. You can share your estimated cutoffs with us through a comment box provided below and discuss it for your knowledge.
As there will be no SBI PO sectional cutoffs, category wise merit list prepared based on aggregate marks scored in the Main Examination. In recruitment exams, cut off marks plays an Important part in the selection. It is one type of qualifying score that every candidate has to secure for selection. Here candidates are advised to check out below table as it consists of SBI PO Previous Years Cut Off Marks (2012, 2013, 2014, 2015, 2016, 2017, 2018, 2019 & 2020).
State Bank Of India PO Mains Previous Cutoffs Year wise
| | | | | | | | | | |
| --- | --- | --- | --- | --- | --- | --- | --- | --- | --- |
| Categories | 2020 | 2019 | 2018 | 2017 | 2016 | 2015 | 2014 | 2013 | 2012 |
| General | 88.93 | 104.42 | 50.79 | 46.59 | 49.75 | 115 | 80 | 80 | 85 |
| OBC | 80.96 | 94.28 | 46.26 | 40.83 | 44.43 | 108 | 70 | 70 | 74 |
| SC | 73.83 | 82.50 | 43.99 | 38.95 | 34.25 | 102 | 60 | 70 | 70 |
| ST | 66.86 | 77.63 | 39.87 | 28.88 | 34.73 | 82 | 60 | 70 | 70 |
| VI | 93.08 | 101.75 | 47.09 | 46.11 | 43.08 | 70 | 50 | − | − |
| HI | 63.10 | 75.36 | 32.69 | 32.95 | 40.78 | 68 | 45 | − | − |
| D & E | 63.25 | 75.14 | − | 37.24 | 38.45 | 59 | 40 | − | − |
| LD | 80.45 | 86.51 | 43.04 | − | − | − | − | − | − |
| EWS | 84.60 | 100.89 | − | − | − | − | − | − | − |
♦ SBI PO 2019 Group Exercise/ Interview & Final Cutoff ♦
Categories
GD & Interview Cutoff
Final Cutoff
GEN
20
54.11
OBC
17.50
48.78
EWS
20
50.13
SC
17.50
45.74
ST
17.50
43.90
LD
17.50
47.11
VI
17.50
52.58
HI
17.50
35.29
D & E
17.50
33.37
State Bank Of India Probationary Officer Final Cutoff Marks Category wise had shared here in this table is of the year 2019. We will update this table with current year final cutoffs soon after declared by the Bank officials. The cutoff list will be made available in the mark sheet of all the aspirants. Along with the cut off score, minimum qualifying marks test wise will also be mentioned in the mark-sheet. Furthermore, details on the result are available below, so go through it.
State Bank Of India Probationary Officer Exam 2022 Marks
SBI PO Main Exam Marks Secured by the Candidates will be revealed after the declaration of final results. Candidates must use their Registration Number or Roll Number & Date of Birth to download their SBI Mains Results of Probationary Officer from a login page. Only by submitting the valid information, candidates will be able to check their mark sheet. Contenders can refer their marks secured in the Online Main Examination by following the simple steps given above. We have attached result page link with this article to help candidates so that they can find their mark sheet without finding anywhere on google search engine.
All those who have lost their Registration ID Number or Roll Number can recover it from the online web portal by inserting necessary information so no need to worry. Once you get your SBI Probationary Officer Mains Results/ Marksheet printout, keep it in safe custody as it may be required to attend the interview/ GD. Until the completion of recruitment process, State Bank of India PO Results for Main Exam will be available at the online web portal.
SBI PO Final Result 2022 – Details
State Bank PO 2021-22 Final Result Date is already fixed and announced by the authority. State Bank of India Officials will declare the final result on time at its online web portal. Check out your Roll Number from the final list of shortlisted candidates for appointment as Probationary Officers (POs) in State Bank of India as and when available from here. For further details, the department will advise the selected aspirants by SMS or E-mail separately.
SBI Probationary Officer Exam Marks scored in the Mains (out of 250 marks) has converted to out of 75 marks while Group Exercises & Interview Scores (out of 50 marks) converted to out of 25 marks. After aggregating (out of 100) converted marks of Main Exam and GD & Interview, SBI PO Final Merit List is to be prepared by the authority. As the roll numbers of selected aspirants have been listed in a serial number, candidates do not get any difficulty in finding out their Roll Number. Candidates can use Ctrl+F key to find out their Roll Number from the mains merit list very easily.
Lastly from the top merit ranked applicants, the bank will make a final selection in each category. The result of those contestants qualified for GD & Interview will be available along with a list of candidates finally selected. While preparing State Bank Of India PO 2021-22 Final Merit List, the score obtained in the prelims not counted by officials. Hope all aspirants know that preliminary test is only of qualifying nature and its marks will not be eligible for the final result.
SBI PO 2021-22 Main Exam Result – FAQs
What is Date of SBI PO Mains Result 2022 Declaration?
State Bank of India has declared Probationary Officer Mains Result on January 25, 2022.
How to Download SBI Probationary Officer Main Exam Result 2022 PDF?
Candidates will have to visit Bank's website https://bank.sbi/careers or https://www.sbi.co.in/careers OR from a direct link available on our website for downloading the result.
Will I get SBI PO 2021-22 Mains Merit List by Email?
No. You will have to download the merit list from the Bank's website only.
When can I check SBI PO Main Exam Marks 2022?
After the release of final result, the bank will upload Main exam marks of every candidate at an official website of State Bank of India.
What will be Cutoff Marks in SBI PO Main Examination 2022?
The expected cutoff marks for GEN will be around 100-110 while for OBC, it will be 95-100.
Can I Request for Re-evaluation of my Marks List?
No. You cannot request for re-checking of your marks. The result released by the authority will be treated as final.
When will SBI PO 2022 Final Merit List be Released?
SBI Probationary Officer Final Result will be released in February or March 2022.
Whom should I contact for queries?
Candidates contact through the following source of communications for any query:-
» Helpline Number: 022-2282 0427 (During Working Hours Only)
» E-mail ID: crpd@sbi.co.in
CONCLUSION: Hope candidates have got SBI PO Phase-II Main Examination 2022 Result, Cut off Marks and Final Merit List related all the information through this website. All those who failed to qualify for the next selection round should not get upset as they will get many more good chances in future. Just click here on Latest Employment News link and check out all upcoming Govt jobs state-wise. Don't forget to bookmark this website. Share your State Bank of India Probationary Officer Phase-II Exam Result Status here in a below comment section & discuss it with our team. Thank You, Stay tuned for the latest stuff…!!