SBI PO Prelims Result 2021, sbi.co.in PO 2020 Result, SBI Probationary Officer Pre Exam Results Merit List, State Bank of India PO Preliminary Exam Cut off Marks Scorecard Download link available here:
Hey, Guys!! We have the latest news about result of SBI PO 2020 Preliminary Online Exam held on 4th, 5th and 6th January 2021. State Bank of India has announced the preliminary exam results of probationary officer on 18th of January 2021. We have given quick link on this page so SBI PO Prelims Result 2021 can be downloaded easily by the candidates. Hence, candidates can download SBI PO 2020 Prelims Score Card/ Marks List from a direct link shared below by inserting Roll Number or Registration Number & DOB. Here aspirants are suggested to have a look at the bottom table for verifying SBI PO Prelims Cut Off Marks. Readout this blog to know more details about State Bank PO Results of Pre-Exam & Scorecard.
Latest Update:

State Bank of India PO Preliminary 2020-2021

Result Released

. Candidates can download and check their prelims exam marks/ scorecard from the below link by scrolling down this page. Keep your eye on this web page for further news.
SBI PO Prelims Result 2021 @www.sbi.co.in | State Bank of India Probationary Officer Pre Results Cutoff Marks, Score Card & Merit List
Just on 14th November-2020, SBI Recruitment Notification had released for 2000 vacancies of Probationary Officer posts. State Bank of India has conducted PO Online Preliminary Test (Phase-I) successfully as per schedule. The Phase-I Examination held for a total of 100 marks. The test had organized in total 04 (four) slots in a single day. The 01st slot conducted from 09 AM to 10 AM, 02nd slot from 11:30 AM to 12:30 PM, 03rd slot from 02 PM to 03 PM and 04th slot from 04:30 PM to 05:30 PM. Approximately lakhs of candidates have given their prelims exam for PO post. Now all are waiting to get SBI Result of PO Pre Exam 2021 to know their qualifying status.
SBI Probationary Officer Prelims Results are prepared based on an objective type test held online all around India. It contains subjects such as English Language, Reasoning Ability and Quantitative Aptitude. Get ready with your Roll Number or Registration Number as State Bank of India PO Preliminary Results & Marks will be out at https://www.sbi.co.in/careers URL Link given below.
sbi.co.in PO Pre Exam 2021 Result Date
♦ RESULT OVERVIEW ♦
Organizer:
State Bank of India
Rectt. Advt. No.:
CRPD/ PO/ 2020-21/ 12
Exam Name:
SBI PO Online Preliminary Exam 2020-21
Total Posts:
2000 posts
Name of the Post:
Probationary Officer
Pre Exam Dates:
04-01-2021, 05-01-2021 & 06-01-2021
Pre Exam Result Release Date:
DECLARED (18-01-2021)
Result/ Marks List URL Link:
Attached Below
Cutoff Marks:
Check below table
Mains Exam Date:
29-01-2021
Interview & GD Date:
February/ March 2021
Final Result Date:
Last week of March 2021
Official Website:
www.sbi.co.in
How to check SBI PO Preliminary Exam Result 2021?
Aspirants can check out SBI Probationary Officer Prelims Result from an online web portal by following the steps prescribed below. Under this section of the web page, a direct link to download Pre Exam Scorecard is also available. We notify all the candidates that they can download their mark sheet by submitting Roll Number and DOB or Registration Number & DOB in a login page. The steps to check details of marks secured by aspirants as follows:-
Step 1: Visit the State Bank of India Official Website or click on a link given below.
Step 2: Press on a "Careers" link provided on the homepage at upper right corner.
Step 3: In a next page, open a download link titled as "Result of Probationary Officer Pre Examination, 2020 2021".
Step 4: Enter your Roll Number, Registration Number and Date of Birth (dd/mm/yyyy) in a login page.
Step 5: After verifying the entered details, click on a "Submit" button.
Step 6: A list will appear on your screen containing marks secured by the candidates along with cutoff marks.
Step 7: Download and then save your scorecard to the working device.
Step 8: At last, take a hard copy of your marks list just for further use.
Quick Links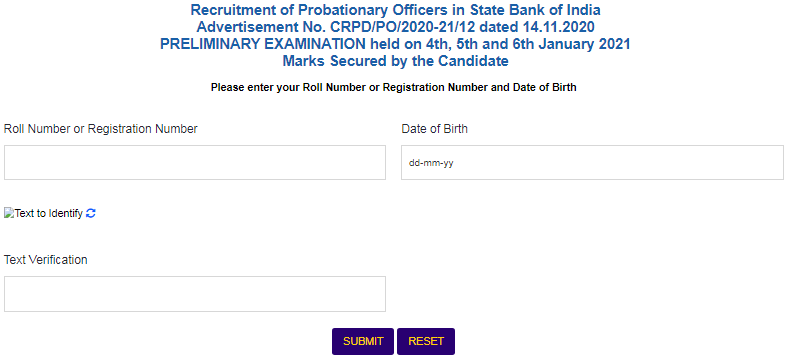 Click here to check SBI PO 2020-21 Prelims Result (Released on 18th January 2021)
Click here to visit State Bank of India Official Website – https://www.sbi.co.in
Check SBI PO Mains Result & Cutoff Marks
SBI Probationary Officer Prelims Result 2021 – Details
Here we inform that SBI Probationary Officer Pre Exam Marks will not be added to the final merit list. The marks obtained in the Main Examination and Group Discussion/ Interview will be added for the preparation of a final merit list. The selection of candidates for mains exam (Phase-II) to be done through cut off marks only. As per selection criteria, every candidate has to obtain a minimum passing score in each subject. Those applicants qualify in the phase-I exam will have to appear for the Main Examination on 29th January 2021. Contestants who clear the phase-II examination will subsequently be invited for a GD and Interview in February/ March 2021. The results of Preliminary Exam, Main Examination and Final Result will be available on the Bank's website.
Candidates can start downloading the SBI PO Main Online Exam Call Letter from the official website 3rd week of January 2021 onwards. Eligible applicants are instructed to download their Call letter from a result login page itself after logging through roll number, registration number and date of birth. Guys, SBI PO Result 2021 for Preliminary Exam will be available at an official website until the recruitment process gets over.
SBI PO 2020 2021 Prelims Cut Off Marks
Following are the total marks (out of 100) category wise secured in the Preliminary Exam (Phase-I) by the last contestant shortlisted for the Main Examination (Phase-II):-
♦ Cut-off List Year wise ♦
Category Names
PO 2020 Cutoffs
PO 2019 Cutoffs
PO 2018 Cutoffs
PO 2017 Cutoffs
PO 2016 Cutoffs
PO 2015 Cutoffs
GEN
58.50
71
56.75
51.50
47.50
47.50
OBC
56.00
68.25
54.25
48.25
44.50
42.25
SC
50.00
61.75
49.00
43.25
38.75
37.25
ST
43.75
54.75
43.00
31.25
29.25
19.75
VI
47.75
64.75
49.00
42.50
37.00
30.75
LD
47.25
59.50
45.25
38.75
36.00
29.25
HI
13.50
16.25
14.75
18.50
15.75
—
D&E
5.75
—
—
—
—
—
EWS
—
68.25
—
—
—
—
All the information on year-wise previous cutoffs that shown above, totally based on officially announced by the authority. In 2019, Cutoff Score for all categories had increased by a huge margin as compared to last year. The prelims Cut-off Marks is more this time as lots of contestants have taken part in this examination to make their careers in State Bank of India. For section wise previous years cut off marks, go through the below table.
♦ SBI PO Cutoff Score (Preliminary Exam) Subject wise ♦
Years
Categories
Minimum Qualifying Marks
English Language
(30 marks)
Quantitative Aptitude
(35 marks)
Reasoning Ability
(35 marks)
2017
General (UN)
08.75
10.25
06.50
OBC/ SC/ ST/ OH/ VH
05.75
07.00
04.00
2016
General (UN)
08.75
07.25
07.00
OBC/ SC/ ST/ OH/ VH
06.00
04.25
04.25
2015
General (UN)
05.75
05.75
09.25
OBC/ SC/ ST/ OH/ VH
03.25
03.50
05.75
SBI PO Prelims Exam 2021 Marks & Merit List – Preparation
A Complete List of Registration Numbers of Candidates Shortlisted for Phase – II (Mains Examination) will be made available in a result of written test (Phase – I) held in December 2020 & January 2021. Category wise SBI PO Prelims Merit List will be drawn based on aggregate marks scored in the Preliminary Exam. As there will be no sectional cut-off, so contestants numbering 10 (ten) times the numbers of vacancies in each category will be qualified for Mains from the top of above merit list.
Around 20,000 candidates are likely to be selected for appearing in the Mains Exam. The expected number of candidates to be shortlisted category wise as follows: GEN = 8100, OBC = 5400, EWS = 2000, SC = 3000, ST = 1500 and PwD = 800.
State Bank of India Probationary Officer Preliminary Exam Marks will be available only after the declaration of results at the official website. As of now, there is no change in the date of result declaration. A quick link is given above from where aspirants can easily download their marks list without any problem.
All those candidates have scored above qualifying marks and qualified for mains examination are guided to start their preparation. Those aspirants not selected should not get disheartened as this is just starting as there will be a huge lineup of Bank Exams ahead in upcoming months.
Information Given On SBI PO Prelims Scorecard 2021
Following details will be available on the scorecard of all candidates:-
Examination Name
Date of Exam
Candidate Name
Category of Candidate
Roll Number
Registration Number
Date of Birth (DOB)
State/ UT applied for
Section-wise Maximum Score
Marks Secured by the Candidate
Cut off Score
Qualification Status of Candidate
Candidates will find their selection status from the scorecard itself only. There will be a message mentioning "CONGRATULATIONS – You have been shortlisted for the Main Examination (Phase-I) to be held on 29-01-2021." if you qualify the prelims. Candidates who failed in the preliminary test will find Vice versa message.
About State Bank of India: It is an organization owned by the Government of India (GOI). It was founded on 02nd June 1806 as Bank of Calcutta, later renamed the Bank of Bengal. It is one of the oldest commercial banks in the Indian Subcontinent. It was nationalized on 02nd June of 1956. A headquarters of this Indian multinational company is situated in Mumbai, Maharashtra. This corporation also has five associative banks. Today, it has 14 regional hubs and 57 Zonal Offices that are located at important cities throughout the country. It also releases various recruitment advertisements for appointing best candidates to posts like Clerk, Specialized Officers, etc. It published weekly employment news for both State Bank of India & its associative banks.
State Bank of India PO Pre Result 2021 – FAQs
What is the Release Date of SBI PO 2021 Prelims Result?
State Bank of India has Declared Probationary Officer Preliminary Exam Result on 18th January 2021 at around 08 PM.
How to download SBI Probationary Officer Pre Exam Result 2021?
Candidates will find result/ scorecard link from https://www.sbi.co.in/web/careers/current-openings and also from our website http://techufo.in/.
What is the Cutoff Marks for SBI PO 2021 Preliminary Exam?
The cutoff marks are 58.50 for GEN, 56 for OBC, 56.75 for EWS, 50 for SC and 43.75 for ST.
Do I need to login to check SBI PO Prelims Exam Result 2021?
Yes. You will need to login by using your Roll Number or Registration Number and DOB to check the scorecard.
What is the Date of State Bank of India PO Main Exam 2021?
The Online Main Examination is scheduled to be held on 29th of January 2021.
CONCLUSION: We have provided all latest information on SBI Probationary Officer Phase-I Exam Result in this article. Readers can bookmark our website www.techufo.in for further updates on State Bank of India PO Results. We wish you all candidates a BEST OF LUCK for massive success in this preliminary slot. The details like SBI PO Mains Syllabus, test pattern, hall ticket, analysis & final merit list will be available here on this website. Follow us for latest govt job updates, railway jobs, IBPS Recruitment, etc. If you have any question regarding your marks, then mention it in a feedback box. Our team will answer your questions as soon as possible.
"Keep visiting this web page for SBI PO Prelims Result 2021 & Marks related Live News and Latest Updates. Hope you guys have liked this article about State Bank Of India Probationary Officer Preliminary Exam Results. Thank You…!!"