CISF Admit Card 2023, cisfrectt.in Head Constable Admit Card, Central Industrial Security Force HC (Min) Written Exam Date/ Hall Ticket, CISF Head Constable Ministerial Call Letter Download link available online here:
CISF Head Constable/ Min-2019 Admit Card has been released on 12-07-2023; download yours from here!! Hello, Aspirants. You will get the direct link to download Central Industrial Security Force Head Constable Admit Card for Written Examination from this website. The board has started issuing CISF Head Constable Recruitment Exam 2023 Hall Ticket from this month by uploading to the official website. Candidates who are eligible for attending Head Constable Min Written Exam will get their Central Industrial Security Force Call Letter only by inserting the Reg. Number and Password. For quick access, candidates can click on CISF Head Constable (Ministerial) 2023 Call Letter Link available right at the bottom of this page. To get detailed information about CISF Admit Card 2023 for HC Ministerial Exam, you must read this page until the end.
«

NOTICE BOARD

 »
Latest News:
CISF Written Exam Admit Card For Head Constable Ministerial (HC/ Min) – 2019 Has Been Available From

12-07-2023 To 06-08-2023

For Downloading From A Direct Link Given Below In This Article. The HC/Min-2019 Written Exam Will Be Held On 23-07-2023, 30-07-2023 & 06-08-2023.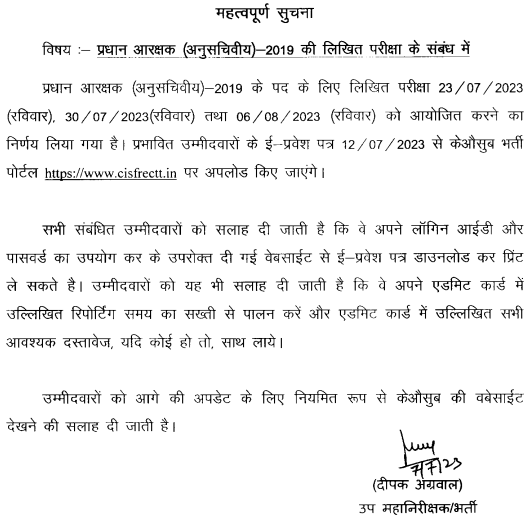 CISF Admit Card 2023 | CISF Head Constable (HC Min) Written Exam Call Letter @www.cisfrectt.in
On various dates, the Central Industrial Security Force is going to conduct the selection procedure consists of Height Bar Test (HBT), Physical Standard Test (PST), Documentation, Written Test, Skill Test (typewriting test) and Medical Examination. All these exams to be held at numbers of venue located around the country. The tentative schedule for each event of recruitment process will be uploaded to an online portal. Applicants are suggested to visit the official website (www.cisfrectt.in) and know their exact schedule of CISF HC Ministerial Written Examination. Applicants will be allowed to appear for an OMR based/ Computer based Written Exam of 100 marks only by qualifying the PST & Documentation.

CISF HC written exam will have objective type 100 multiple choice questions carrying 01 mark each. In the written exam, candidates will have to face topics like General Intelligence, General Knowledge, Arithmetic and General English or Hind. Contestants should score more than cutoff marks for qualifying in written exam. The department will announce the date of written exam later on after finishing a 1st stage of recruitment process. Candidates will get CISF Head Constable Exam Date & Admit Card download link under this article below.
CISF Head Constable Admit Card 2023: Overview
Before getting to the details about Admit Card, kindly go through the summary of CISF HC Ministerial 2019 Recruitment from the table under:-
Name of the Department:
CENTRAL INDUSTRIAL SECURITY FORCE (केंद्रीय औद्योगिक सुरक्षा बल)
Notification Number:
N/A
Article Category:
Admit Card/ Call Letter/ Hall Ticket/ Call up Letter
Total Vacancies:
429 vacancies
Name of the Post:
Head Constable (Ministerial) Examination – 2019
Type of Vacancies:
Temporary Posts
Job Category:
Central Government Jobs
Job Placement/ Location:
India
Selection Procedure:
» 01st Stage (PST & Documentation),
» 02nd Stage (OMR/ Computer Based Written Test) and
» 03rd Stage (Skill Test)
Helpline Number:
011-24366431 & 011-24307933
Official Email ID:
cisfrectt@cisf.gov.in
Official Websites:
» www.cisf.gov.in
» www.cisfrectt.in
CISF Head Constable (Ministerial) Exam Date 2023
Let's have a look at the below table about the Schedule for downloading CISF HCM-2019 Admit Card & Head Constable Min Exam Dates for your knowledge & information:-
| | |
| --- | --- |
| CISF HC/Min Events | Dates |
| Application Dates: | 21st January to 20th February 2019 |
| PST & Documentation Exam Dates: | In June & July 2019 |
| Re-conduct PST & Documentation Dates: | 13th July to 5th August 2022 |
| Release Date for Written Exam Admit Card: | 12th July 2023 onwards |
| Written Examination Date: | 23rd July 2023, 30th July 2023 & 6th August 2023 |
| Written Exam Reporting Time: | Printed in Admit Card |
| Release Date for Skill Test Admit Card: | 13 to 14 days prior exam date |
| Skill Test (Typewriting Test) Date: | To be announced later |
| Release Date for Medical Exam Call Letter: | To be announced later |
| Medical Examination (DME/ RME) Date: | To be announced later |
How to download CISF Head Constable Written Exam 2023 e-Admit Card?
All those contestants looking to download Central Industrial Security Force Call Letter for Head Constable Ministerial & HC Min (LDCE) Exam and don't know how to collect it can go through the following ten steps shown below in a table. The Steps to Download e-Admit Card/ Call Up Letter are as follows:-
1st Step – Open the official website of Central Industrial Security Force (CISF), i.e. https://www.cisf.gov.in
2nd Step – Now on a homepage, navigate to the Notice Board.
3rd Step – Search a link titled "Download Admit Card for CISF Head Constable OMR/ Computer based Written Examination 2019 2021" from the Notice Board.
4th Step – Press the Hall Ticket link after you find out about it.
5th Step – As soon as you press the link, a login page will appear on your screen.
6th Step – As per instructions, insert your details like Registration ID Number and Password to generate Call up Letter for Written exam.
7th Step – After inserting the necessary details and checking it out, click on the 'DOWNLOAD' option.
8th Step – Your call letter containing important information will open after submitting the correct details.
9th Step – Verify your details printed on the Admit Card and also read out the instructions to follow during an examination.
10th Step – Download the PDF file to your device and keep it in a safe folder.
Direct Link to Download CISF HC/ Min Admit Card 2023
Open the following login link and submit your details to access the Admit Card directly from this web page:-
Download CISF Head Constable (Ministerial) – 2019 Written Exam Admit Card (Live Now)
NOTE: Make sure that your Central Industrial Security Force Exam Call Letter PDF file does not get deleted from the device where you have saved it in a folder. At the timing of examination, make one printout of your call up letter and carry it along with other required documents otherwise not allowed to enter the hall.
CISF HC Ministerial Call Letter 2023: Details
Candidates!! Are you preparing for Head Constable Exam and waiting for your CISF Call Letter Link to publish by online?? Do you know the process to download your Central Industrial Security Force Call Up Letter for Written Exam?? If you do not have any idea, then simply follow the step-wise instructions given here in this article at the bottom. Now, one thing here we want to notify every candidate that they can generate their Admit Card by visiting the official web portal and then logging by Registration Number & Password. CISF HC (Min) Hall Ticket will be available to download for all those candidates who have applied in response to this recruitment by the due date and provisionally eligible.
Following details will be available in CISF HC Min Written Exam Admit Card of All Candidates:-
Name of the Examination
Candidate's Details [Post Applied for, Photo, Roll Number, Application Number, Registration ID, Candidate Name, Father's Name, Category (GEN/ SC/ ST/ OBC), Gender (Male/ Female), Weather Direct/ LDCE/ Ex-S, Date Of Birth, Domicile State, Identification Mark, Postal Address and Permanent Address]
Examination Details [Name of Centre, Complete Address of Centre, Date of Examination, Reporting Time at Exam Centre, Gate Closing Time, etc.]
Space to Affix Recent Colour Passport Size Photograph
Space for Candidate Signature in front of Board
Signature of Invigilator
List of Important Instructions to the Candidates
The higher authority will upload direct link for CISF Head Constable e-Admit Card to their website according to the schedule only. At the time of calling for PST Physical Examination, Documentation, Written Test and Skill Test (Typewriting Test), eligible contestants to be communicated by officials through their Roll Numbers. Catch furthermore, details from following passages.
cisfrectt.in Head Constable Min Admit Card 2023: Information
All the applicants will have to download their Call Letters for each exam by online mode only from the CISF official website (cisfrectt.in) URL link that we have attached above. The higher authority will issue hall ticket at each stage of recruitment process through an online portal. Those contestants having any query related to CISF HC Ministerial Admit Card download process can contact by helpline number. As soon as the CISF hall ticket release, download yours before the examination date without being late.
All contestants are required to bring their Admit Card for admission in the Examination Centre. Along with your CISF Call up Letter, you must carry at least one photo bearing ID proof in original such as Driving License, Aadhar Card, Income Tax Pan Card, Voter ID Card, Identity Card issued by University/ College, etc. Those who don't carry necessary documents shall not be allowed to appear for the examination. All participants must reach their examination centre well before the reporting time as mentioned in Central Industrial Security Force Hall Ticket failing which they may not get permission to attempt test. Candidates must note that department will not provide TA/ DA during the selection procedure as they have to participate at their own expenses only.
Central Industrial Security Force Admit Card 2023: Instructions
Following are some Important Information for candidates, so please have a glance at it before proceeding further for CISF HC Ministerial Exam:-
All those eligible candidates who unable to download CISF Admit Card for 429 Head Constable (Ministerial) Examination from the website should contact the concerned Regional Recruitment Centre (RRCs) of the STATE at least 01 week before an exam date. It is solely the responsibility of candidates for downloading the call letter.
Along with tentative Central Industrial Security Force HC (Min) Written Exam Schedule, the recruiting department will provide contact details of officers to be contacted in case of non-receipt of admit cards.
All the candidates are requested to paste a passport size photograph at the place provided in a hall ticket, otherwise, they will not be allowed inside the test centre.
At the time of Physical Test and Documentation, all candidates' identity should be checked by the department officials from ID Cards as produced by the candidate. Therefore, applicants must check their e-admit card carefully. If you found any mistake in the name, reservation category, photo or signature is missing or is incorrect, then get it rectified by the recruitment board.
Aspirants must note that under any circumstances, the request for change of venue and date for PST/ Documentation/ Written Exam will not be entertained. Correction in Name, Father's Name, DOB, Category, etc. will be rectified at the recruitment centre.
Contestants are guided to bring 04 (four) passport size photographs, original certificates (educational/ caste/ domicile) and other testimonials along with one set of photocopies for proper checking. If a candidate does not submit any requisite document in support of his/ her eligibility, then candidature to be rejected straight away. No appeal will be accepted against rejection for failing to submit requisite documents.
An aspirant should follow the instructions given by Supervisor and the Invigilator at all the stages of examination for which he/ she has been called. If any candidate violates the instructions, then his/ her candidature may be cancelled by officials.
As candidates are not permitted to use prohibited items, so avoid carrying it inside the examination premises. Possession of prohibited items to be considered as use of unfair means in the exam and further strict action taken against such aspirants.
Central Industrial Security Force or GOI will not take responsibility for any injury or mishap or medical problem during the recruitment tests such as PST, Documentation, Written Test, Skill Test and DME – Detailed Medical Examination.
All the Best!! Get well prepared for all selection rounds and may you all get success in this recruitment. Our team has updated complete detail about the exam call letter for Central Industrial Security Force HC Ministerial here. So, hurry up! Go & collect your CISF Admit Card 2023 from a quick link uploaded above and attend the Physical (PST) Examination as well as Written Exam. As per instructions, applicants should check their eligibility criteria prescribed in the official notification before reporting to a recruitment venue.
CISF Head Constable (Min) Exam Pattern 2023
Here all are suggested to refer the below table showing written exam pattern, skill test pattern and other details about examination for their knowledge:-
♦ Written Examination Scheme ♦
Type of Questions
Subjects/ Topics
Total Questions
Total Marks
Time Duration
OMR based Objective Type Multiple Choice Questions
General Intelligence (जनरल इंटेलिजेंस)
25 ques.
25 marks
02 Hours
General Knowledge (सामान्य ज्ञान)
25 ques.
25 marks
Arithmetic (अरिथमेटिक/ अंकगणित)
25 ques.
25 marks
General English OR General Hindi (सामान्य अंग्रेजी/ सामान्य हिंदी व्याकरण)
25 ques.
25 marks
GRAND TOTAL ⇒
100 questions
100 marks
120 minutes

The

Question paper

will be set both in Hindi and English.

In the examination, the answers to be answered using a Blue/ Black ball pen only.

The

qualifying marks

of 35% for General Category Candidates and 33% for OBC/ SC/ ST Category.

Contestants do not mean that who have scored 35% & 33%, will be invited for the next stage of selection.

All questions will be compulsory and carry equal marks.

No negative marking for wrong answers in the written examination.

Candidates will get furthermore

details about exam pattern as well as syllabus

by referring the official online web page or notification link that is available in above passage.

After 04-05 days of written test completed, the

Answer key to this question paper

to be posted on the official website. However, the centers will also display Written Exam Answer keys on the notice board of recruitment centre.

No

representation for revaluation of answer sheet

or re-conduct of written examination will consider by the officials.

Aspirants are advised to check exam related all the Important instructions point wise from the below row.

« Exam Instructions for Candidates »

Contestants should bring black or blue ball pens for the written examination as they will not get it from the recruiting authority.
Applicants must write their Roll Number on Question Booklet as well as OMR Answer Sheet.
As the OMR Answer Sheet of written examination will be processed or scanned in an electronic machine, so any wrong entry of roll number, name, question booklet, number of question paper series will render the OMR sheet invalid and not evaluated.
Around 15 minutes time will be given to every aspirant for filling up a column of OMR answer sheet and Question Booklet appropriately.
Contestants will be allowed to take a carbon copy of the answer sheet.
If a candidate has a query during the test, then he/ she should ask it to the examiner for a solution.
Aspirants shall not be allowed to leave the Examination Hall before the end of 02 hours of a Written Test.
Also, aspirants are strongly advised not to leave the exam hall without handing over their original OMR Answer Sheet along with Question Booklet to the Invigilator on duty in the room and sign the attendance sheet.
♦ Skill Test Pattern ♦
Description
Words Per Minute
Duration
English Typing Speed On Computer (कंप्यूटर पर अंग्रेजी टाइपिंग की गति)
Minimum 35 WPM
10 Mins Time Allowed
Hindi Typing Speed On Computer (कंप्यूटर पर हिंदी टाइपिंग की गति)
Minimum 30 WPM
10 Mins Time Allowed

35 wpm (Words Per Minute) in English and 30 wpm (Words Per Minute) Hindi corresponding to 10500 KDPH (Key Depressions Per Hour) in English or 9000 KDPH (Key Depressions Per Hour) in Hindi with an average of 05 (five) key depressions for each word on the computer.
The skill test is of qualifying nature. It is for testing the skills of candidates in typing speed on PC in Hindi as well as English Languages.
You can refer the official notification from this article for more detailed info regarding the skill test norms on computer.
About Central Industrial Security Force HC Ministerial Recruitment
CISF came into existence in the year of 1969 on 10th March to provide integrated security cover to the Public Sector Undertakings (PSUs). Subsequently, it was made an Armed Force of the Republic of India by passing Act of Parliament on 15 June 1983. It works under the Union Ministry of Home Affairs, Government of India. It headquartered in New Delhi, the capital of India. It has become a premier multi-skilled security agency of the country. It authorized to provide the security for major critical infrastructure developments of India in diverse areas. Currently, the force has an active strength of 144,418 personnel that Central Government has raised from 145,000 to 180,000 personnel.
CISF Latest Recruitment Apply Online for Constable Fireman (1149 Posts) 2023
Just on 20th of January 2019, the Force has issued a notification to fill up the total 429 vacancies of Head Constable (Ministerial) with Direct Male/ Female Candidates and Departmental (LDCE) Candidates. This recruitment notice has received a good response and those who are fascinated towards govt job after 10th pass has applied through online mode. All those applicants looking forward to check details about Central Industrial Security Force exam dates and hall ticket download dates should have a look at the official website.
FAQs on Central Industrial Security Force HC MinHall Ticket 2023
Below are some of the most commonly asked questions about Call Letter/ Admit Card/ Hall Ticket for Central Industrial Security Force Exam, so go through it:-
How will I get CISF Head Constable (Ministerial) Exam Admit Card 2023?
Candidates will get their HCM e-Call Letter by submitting their Name, Father's Name, Date of Birth & Gender via online mode by visiting the web portal – https://www.cisfrectt.in/ & also from our website – http://techufo.in/.
When does CISF will conduct Head Constable Min-2019 Written Exam?
The Central Industrial Security Force written test for HC Min-2019 shall be held on 03 (three) consecutive Sunday, i.e. on 23rd July 2023, 30th July 2023 and 6th August 2023.
When Admit Card for CISF HC Ministerial Written Exam 2023 to be issued?
The Call letter for Head Constable (Min) – 2019 Written Examination will be available for download from an official recruitment website of the Central Industrial Security Force from 12th July to 6th August 2023.
How many Candidates are Appearing for CISF Head Constable Min Written Exam 2023?
Right now, no such data revealed by the Central Industrial Security Force Recruiting Officials.
CISF will send HC/ Min-2019 Call Letter in hardcopy by post?
No. Only the softcopy of hall ticket shall be downloadable by candidates by logging into their account using Registration ID & Password at the appropriate time notified on the website.
What to do if I am not able to login for downloading CISF Call Letter 2023?
Candidates who are unable to login for downloading Admit Card due to any reason should click on "Forgot Registration ID & Password" Button and submit their Name, Father Name and DOB as mentioned during the Registration. If all the details are true and correct, then a Message and a Mail containing Registration ID along with New Password will be sent to Mobile Number and Email Address.
What to Bring along with CISF Head Constable Hall Ticket 2023?
An original Photo Identity Proof, Ball Pen (Black/ Blue only) and other items as instructed in the call letter.
What not to Carry at the CISF HC (Min) 2023 Examination Centre?
Applicants should avoid bringing the mobile phone, other electronic gadgets or any costly items to recruitment centre as an authority will not be responsible for any loss in this regard.
Is there any CISF Helpdesk for Queries or Doubts related to Admit Card?
Applicants can contact at 011-24366431/ 24307933 on any working day from 10 AM to 06 PM as well as send an email at cisfrectt@cisf.gov.in for any assistance regarding Written Examination, Skill Test, Medical Exam, etc. and it's Admit Cards.
What is the Qualifying Marks in CISF HCM Written Examination?
The cut off percentage of marks to qualify CISF HC written exam will be as under:-
(a) General/ Un-reserved (GEN/ UR): 35% marks
(b) Ex-Servicemen (Ex-S): 35% marks
(c) Other Backward Class (OBC): 33% marks
(d) Scheduled Caste (SC): 33% marks
(e) Scheduled Tribes (ST): 33% marks
Bookmark our website (www.techufo.in) and then visit regularly for further updates on result or merit list. Submit your queries in a below comment segment and get solved by us. For the Rojgar Samachar and central govt job updates, you may also subscribe to our website using a RED BELL Icon available at right corner. Here we also suggest to be calm if there is little bit of delay in declaring केंद्रीय औद्योगिक सुरक्षा बल (सी.आई.एस.एफ.) call letter.
"Thank You & Stay Tuned for all upcoming Important News Update about your Central Industrial Security Force (CISF) E-Admit Card/ Call Letter 2023."