Telangana Postal Circle Recruitment 2023 Notification for 96 GDS Vacancies Available to Apply TS Post Office Gramin Dak Sevak Online Application Form at indiapostgdsonline.gov.in:
Today we have some fabulous news to share with candidates waiting for latest notification of postal jobs in Telangana State. The Department of Posts has released employment news for filling up Telangana Post Office Vacancies by uploading GDS Notification to its official website. Now according to TS Postal Circle Notification 2023, total 96 vacancies of GDS (Branch Post Master, Assistant Branch Postmaster & Dak Sevak) posts going to fill up with suitable contestants who fulfill requisite qualification. Here those job seekers looking for govt careers after SSC pass can go for Telangana Postal Circle Recruitment 2023.
The due date for submission of online application is June 11, 2023. Contestants can use the below direct link to apply online for Telangana Postal Circle GDS Vacancy 2023 from this page. To know more eligibility details, go through this full article.
Telangana Postal Circle Recruitment 2023 | TS Post Office GDS Vacancies Apply Online @indiapostgdsonline.gov.in
Telangana Post Office Recruitment 2023 Notification released for GDS BPM, ABPM & Dak Sevak posts in various divisions. Hence, contestants are advised to read out the official advertisement properly. Candidates will get TS Post GDS Online Application link from an official website. All those who wish to apply for TS Postal Gramin Dak Sevak Recruitment must have passed Matriculation from a Govt recognized Board. As per the age criteria, applicants' age must be 18 to 40 years. If you are dreaming for Post Office Jobs 2023, then make use of this career opportunity. Candidates must furnish their all details correct in the application form otherwise rejected. Telangana Postal GDS Apply Online Process will continue from 22-05-2023 to 11-06-2023 at the concerned web portal only.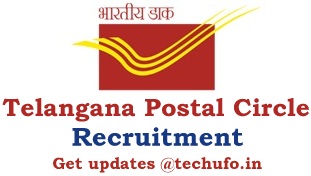 Intrigued contestants can download TS Post Office GDS Online Notification of 2023 from a quick link shared below. Selection of candidates will be on the basis of their academic merits. Contestants will get furthermore information about Telangana Post Master Dak Sevak Vacancy by referring the below description.
TS Post Office GDS Recruitment 2023: Summary
Name of the Organization:
INDIA POST
Name of the Circle:
Telangana (TS) Post Office Department
Recruitment Name:
GDS Recruitment Special Cycle May 2023
Total Posts:
96 vacancies
Name of the Vacancies:
1) BRANCH POSTMASTER (BPM)
2) ASSISTANT BRANCH POSTMASTER (ABPM)
Employment Category:
Central Govt Jobs
Job Location:
TS State 
Application Dates:
22 May to 11 June 2023
Submission Mode:
On-Line only
TS Postal Website:
www.telanganapostalcircle.in
India Post GDS Website:
indiapostgdsonline.gov.in
TS Post Office GDS Notification 2023 PDF
Hey Friends! If you don't want to miss TSPOST GDS Online Recruitment process, then hurry up and apply online application. The apply online link is available here on this page at the bottom, kindly go ahead and make use of this opportunity. The complete details on Telangana Postal Circle Gramin Dak Sevak Vacancies like qualifications, age limit, age relaxation, pay scale, selection methodology, application fee, important dates, apply online steps, result, etc. well explained in the following passages.
TS Postal Circle Vacancy 2023: Details
Here have a look at the Category wise Distribution of TSPOST GDS Vacancies as published by the Indian Postal Department for BOs in Unbanked Villages:-
Sr. No.
Category Names
Total Posts
01.
UR – Unreserved
47
02.
OBC – Other Backward Class
22
03.
EWS – Economically Weaker Sections
08
04.
SC – Scheduled Caste
12
05.
ST – Scheduled Tribe
05
06.
PWD – Persons with Disabilities/ A
00
07.
PWD – Persons with Disabilities/ B
00
08.
PWD – Persons with Disabilities/ C
02
09.
PWD – Persons with Disabilities/ DE
00
TOTAL POSTS ⇒
96
Eligibility Criteria for Telangana Postal Gramin Dak Sevak Vacancies 2023
AGE CRITERIA:-
Unreserved & EWS Quota: Above 18 years and Below 40 years as on the last date of submission of applications, i.e. 11th June 2023
Upper age limit relaxable for the following categories:-

SC/ ST category: 05 (five) years
OBC category: 03 (three) years
PWD + UR category: 10 (ten) years
PWD + OBC category: 13 (thirteen) years
PWD + SC/ ST category: 15 (fifteen) years
EDUCATIONAL & OTHER QUALIFICATIONS:-
A qualification of SSC/ Matriculation/ 10th pass with passing marks in Mathematics and English from any recognized Board of School Education by the GOI or State Governments or Union Territories in India is a must for GDS posts.
Knowledge of Computer is Compulsory
Studied Local Language at least up to Secondary Standard as compulsory or elective subjects.
Knowledge of Cycling and Adequate means of Livelihood
TS Postal GDS Salary/ Pay Scale
ABOUT SALARY: All the selected candidates for TSPOST Gramin Dak Sevak Jobs will get the following Minimum TRCA (Time Related Continuity Allowance) plus Dearness Allowance thereon:-
| | |
| --- | --- |
| Vacancy Names | TRCA Slab |
| BPM | Rs. 12,000-29,380/- |
| ABPM & Dak Sevak | Rs. 10,000-24,470/- |
Telangana Postal Jobs Application Fee & Mode of Payment
Rs. 100/- (rupees one hundred only) for Male (OC/ OBC/ EWS) & Trans-man Aspirants.
All the Female, Scheduled Castes (SCs), Scheduled Tribes (STs), Physically Handicapped (PH) & Trans-women applicants not required to pay application fees. All such aspirants can go directly for TS Postal apply online process through a link uploaded below.
To pay the Application Fee, candidates need to approach any of Head Post Office or other identified Post Offices in India and produce the fee payment Challan printed by authority. Names of the offices are available on the website.
All the applying contestants can also pay their fee through online mode using the URL available in the Home page. All recognized Credit/ Debit Cards and Net Banking facility availed for this purpose.
Once the fee paid, it shall not be refunded or returned under any circumstances.
Telangana Postal GDS Selection Process 2023
SELECTION CRITERIA for TS Postal Circle Jobs as follows:-
DOP recruitment department will select the best applicants based on their performance in the academic merits of 10th class/ Matriculation examination.
Only the marks obtained in 10th standard exam of Government approved Boards, aggregated percentage to an accuracy of 04 decimals will be criteria for finalizing the selection. No preferences for higher education details shall be given to applicants who have provided on the application form.
In the event of a tie in marks of candidates, such cases will be resolved by applying criteria as per the norms.
As per the rules based on the contestant's online submitted applications, the final selection will be according to the automatic generated Merit List.
TS Postal Circle GDS Recruitment 2023: Important Dates
The schedule of TS Post GDS 2023 Engagement for BOs in Unbanked Villages has been tabulated below as officially published:-
| | |
| --- | --- |
| Activities | Dates & Time |
| Official Notification Release Date: | 20th May 2023 |
| Starting Date for Online Registration Process: | 22nd May 2023 (12:01 am onwards) |
| Opening Date for Submission of Online Applications: | 22nd May 2023 (12:01 am onwards) |
| Closing Date for Online Registration Process: | 11th June 2023 (up to 11:59 pm) |
| Due Date to Deposit Application Fee: | 11th June 2023 (up to 11:59 pm) |
| Last Date for Submission of Online Application Form: | 11th June 2023 (up to 11:59 pm) |
| Dates to Edit Details in Online Application Form: | 12th June 2023 (12:01 am onwards) to 14th June 2023 (up to 11:59 pm) |
| Publication Date of Final Merit List: | To be notified later on |
| Document Verification Schedule: | To be notified later via Intimation Letter |
| Intimation Letter Receiving Date: | In 10-12 days after announcement of result |
How to Apply TS Postal GDS Online Application Form 2023?
Candidates fulfilling the eligibility requirements & other conditions specified above can apply through the official website https://indiapostgdsonline.gov.in. Those applications send through any other mode will be rejected by officials. To obtain Registration Number, every candidate needs to register himself/ herself with the basic details in an official web portal. Contestants are requested to read out the complete instructions given below before applying. All steps for online registration as follows:-
1st Step – First, open the India Post GDS Official Website or click on the link uploaded below.
2nd Step – Now, press on a link titled "Direct Recruitment Notification of Gramin Dak Sevak Jobs in Telangana Postal Circle 2023".
3rd Step – Download the notification and read it properly for being sure about your edibility.
4th Step – After going thoroughly, go back to the home page and click on the "Apply On-line Application" link.
5th Step – Insert your details carefully in a prescribed format of the application form.
6th Step – Affix your soft copy of passport size photo and signature in JPG format.
7th Step – If necessary then upload your copies of certificates or documents.
8th Step – Don't forget to re-check the filled up details before final submission of the registration form.
9th Step – At last, press your mouse pointer on the "Save/ Submit" button.
10th Step – On the successful registration process, a provisional Unique Registration Number (URN) will generate on the screen. Also, this Registration Number will be sent to the candidates at their Email ID & SMS to the given Mobile Number.
11th Step – Print a hard copy of the Applied Application Form and Challan/ Receipt for any further usage.
Official Links for TS Post Office Recruitment 2023
TS Post Office Result Merit List 2023
About Result Details: TS Gramin Dak Sevak Result is expected to release at least 45-50 days after completion of the registration process. India Post will upload selection list to the GDS Online Portal. Hence, after the declaration of India Post Gramin Dak Sevak Result Circle wise, candidates can download the pdf of merit list from the online web portal and will know their selection status. Telangana GDS Selection List will showcase selected candidates' details such as Registration Number, Name with Percentage, Division, Category, etc. As & when Telangana Postal Circle Recruitment results declared, applicants will get an update from this web page.
About Telangana Postal Circle Department
TS Post is one of the Indian Postal Circles works under Ministry of Communication and Information Technology. It's headquarter is situated in Hyderabad. It provides high-quality mail and parcel related services in India as well as throughout the world. Now, their main mission is to get recognized as an excellent Organization. The daily services of this department are Mail Services (Mails-Intro, Parcel Mail, Registered Post, Insured Post, Value Payable Post & International Mail), Financial Services (Banking, Money Order, Postal Life Insurance & Intl. Money transfers), Premium Services (Express Parcel, E-Commerce Delivery, etc.), Philately, Postal Savings, Data Collection, etc.
The department also releases recruitment to hire skilled and energetic employees for empty vacancies available in the divisions. Every year, the India Post Authority invites online applications from the eligible Indian Nationals for direct recruitment to the various cadre posts on a fixed pay. For more details, kindly visit TS Postal website.
Telangana Postal GDS Recruitment 2023: Help Desk
| | | | |
| --- | --- | --- | --- |
| S. N. | Divisions | Contact Nos. | Email IDs |
| 1 | Adilabad | 9490164876 | doadilabad.ap@indiapost.gov.in |
| 2 | Hanamkonda | 0870-2455872 | dohanamkonda.ap@indiapost.gov.in |
| 3 | Hyderabad City | 040-23463526 | ssposhcdcity@gmail.com |
| 4 | Hyderabad GPO | 04023463515 | hyderabadgpo@indiapost.gov.in |
| 5 | Hyderabad Sorting Division | 040-23463880 | stgdivision@gmail.com |
| 6 | Hyderabad South East | 04023463807 | dohyderabadsoutheast.ap@indiapost.gov.in |
| 7 | Karimnagar | 9490164878 | dokarimnagar.ap@indiapost.gov.in |
| 8 | Khammam | 08742-224419 | dokhammam.ap@indiapost.gov.in |
| 9 | Mahabubnagar | 08542-242960, 86398 | domahbubnagar.ap@indiapost.gov.in |
| 10 | Medak | 08452221386 | domedak.ap@indiapost.gov.in |
| 11 | Nalgonda | 08682-244267 | donalgonda.ap@indiapost.gov.in |
| 12 | Nizamabad | 08462-222003 | donizamabad.ap@indiapost.gov.in |
| 13 | Peddapalli | 08728-222193 | dopeddapalli.ap@indiapost.gov.in |
| 14 | RMS Z Division | 04023463561 | srm.zdn@gmail.com |
| 15 | Sangareddy | 08455276504 | dosangareddy.ap@indiapost.gov.in |
| 16 | Secunderabad | 040-23463701 | sspossddn@gmail.com |
| 17 | Suryapet | 9490164885 | dosuryapet.ap@indiapost.gov.in |
| 18 | Wanaparthy | 9643346601 | spownp123@gmail.com |
| 19 | Warangal | 08702454330 | warangaldo506002@gmail.com |
| | |
| --- | --- |
| Help Line Number for Technical Support: | 040 – 23463645 |
| Email ID for Queries on any Technical Issues: | gdsonline@indiapost.gov.in |
Here we suggest 10th pass candidates not to miss this TS POST employment opportunity if they are having all required eligibility criteria. For upcoming news on Telangana Postal Recruitment, please bookmark this web page www.techufo.in using "Ctrl+D" key. Stay tuned with us for Admit Card, Answer Key, Cut off Marks and Result updates. Share your query with us through feedback provided at the bottom. Our team will answer queries as fast as possible. Follow this website for regular alerts on latest TS govt recruitment.
All The Best & Stay tuned for Telangana Postal Circle Recruitment 2023 Updates…!!